It is with great sadness that we announce the passing of beloved Longstreet Clinic family medicine physician Ellen Perkins Sanders, M.D.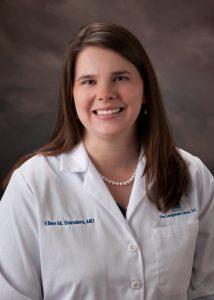 Dr. Sanders joined Longstreet Clinic Family Medicine in Oakwood in October 2015 after practicing in South Carolina for several years. A native of Gainesville, Ga., and a graduate of North Hall High School, Dr. Sanders was so excited to return home to practice medicine. She spoke of how special it was to return to practice at the same place where she and her family received medical care in her youth.
In early 2022, Dr. Sanders was diagnosed with glioblastoma, a rare and incurable form of brain cancer. She credited her care team for helping her continue practicing for nearly a year while receiving treatment. In May 2023 she announced her retirement in a letter to her patients.
"It has been an honor and a privilege to be a part of your lives, providing care and support to you and your families throughout the years. I deeply value the trust you have placed in me and the connections I have forged with each of you," she wrote. "Your well-being has always been at the heart of my practice, and I want to take this opportunity to thank you for being such an important part of my life."
As a family medicine physician, Dr. Sanders treated patients of all ages, from young children to elderly patients. Caring for families where she grew up was a special opportunity she often spoke about.
"I grew up in Hall County, and it was my dream to serve my community by providing outstanding medical care to the people in this place that I love, Dr. Sanders wrote in her letter. "I have been incredibly fortunate to fulfill this dream and am deeply grateful for the opportunity to have touched so many lives in my hometown."
Dr. Sanders is survived by her husband Chris and their young son, Eli.
A celebration of life will take place on July 1, 2023, from 3 until 5:30 p.m. (drop-in) at the Quinlan Visual Arts Center (514 Green St.) in Gainesville, Ga. To read her full obituary, click here.