Neurosurgeon, mom, social media influencer… and now, dance star. Longstreet Clinic's own Betsy Grunch, M.D., FACS, FAANS, can add another superlative to her resume after claiming the top prize at Dancing for a Cause on Aug. 26, 2023, in Gainesville.
Dr. Grunch utilized both her renown and determination to help raise $92,667 for the event, which supports three nonprofits serving local families: Alliance for Literacy, Center Point, and Rape Response. And as one of 10 local celebrities to take part in the combination fundraiser and dance competition, Dr. Grunch's efforts helped in raising a total of $345,000 for this year's Dancing for a Cause – which saw her take home the coveted Mirror Ball trophy.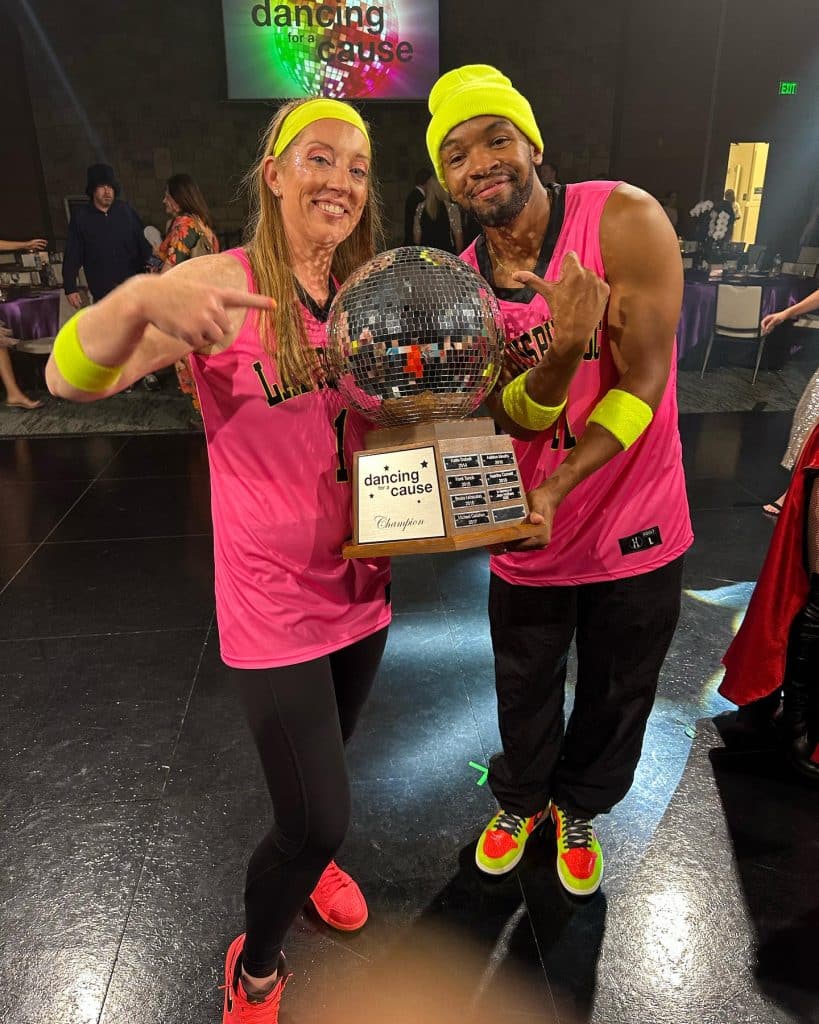 Dr. Grunch and her professional dance partner, Aaron James, performed a hip-hop routine to clinch the Mirror Ball – which is awarded based on the amount of money raised combined with judges' dance scores. And it proved an exhilarating finish to a process that the neurosurgeon plunged into without a second thought.
"I had a friend message me, I think it was in March, if I was interested and that she'd call to go over all the details, and I immediately messaged back, 'yeah, I'll do it.' She was surprised I was so willing – and I truly didn't know what I was getting into," Dr. Grunch said. "I'd never taken a dance lesson in my life; I like to dance, but I didn't really know how. I was just honored they asked me, because it's such a great cause – and I'm competitive, so naturally I wanted to win."
With Aaron breaking down beats and teaching Dr. Grunch the necessary timing, the neurosurgeon picked up the moves through a period of weeks.
"This was his eighth time doing the competition. He's an incredible teacher and made it so easy for me," Dr. Grunch said. "He showed me how to break down songs into counts, and from there I was able to make it into a routine. I practiced a lot both in and out of the studio because I wanted it to be muscle memory, like surgery."
Meanwhile, Dr. Grunch's fundraising efforts came to fruition almost immediately.
Utilizing her understanding of marketing – honed via her social media prowess with over two million followers on her various social media platforms – Dr. Grunch racked up 309 unique donors to fund her efforts, including 10 large donations that she honored by noting their names on her dance outfit, which was pink in honor of Longstreet Clinic practice manager Christy Payne and her battle with breast cancer.
The team at Longstreet Clinic supported her through a rooftop event and other donations merited a thank you and shout-out on social media. In addition, Dr. Grunch raffled off tickets to a Beyoncé concert and had a cooler giveaway.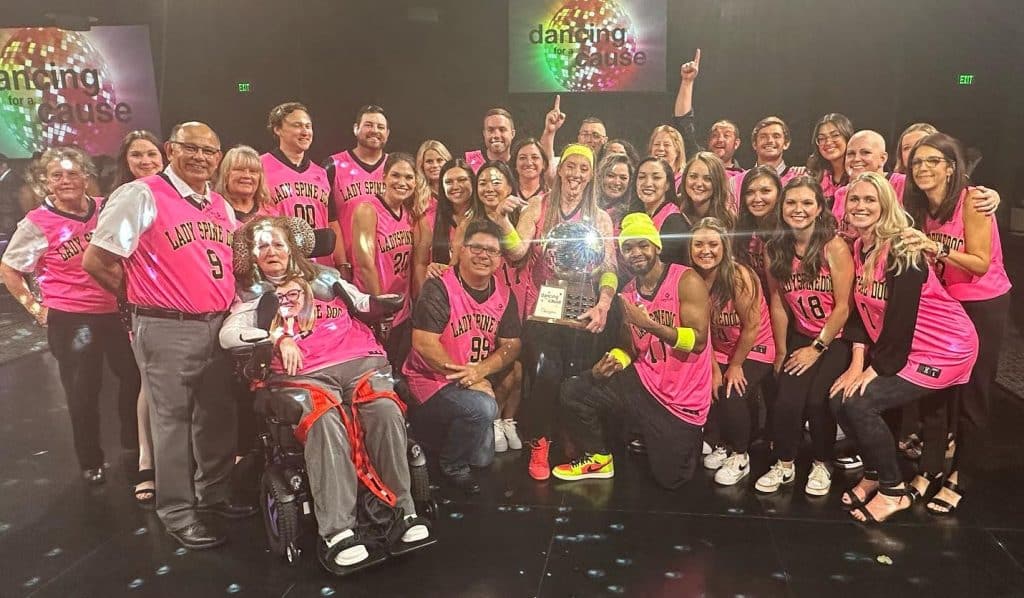 "There was a lot of hustling involved," Dr. Grunch chuckled. "I love sports, and I looked at it as a team competition, so I got people to join me on my team in different ways."
It proved a winning combination – one that all participants were thrilled to be a part of.
"It's an honor to be part of something raising funds for women and children in our community," said Dr. Grunch, a Hall County native. "I met a lot of great people along the way, and people reached out to me from all over. It was just a special experience. And, again, I want to thank everyone who joined me on this journey. It was humbling and uplifting."