Longstreet Clinic recently partnered with United Way of Hall County to distribute almost 4,000 free cookbooks designed to empower residents throughout northeast Georgia.
Titled "Good and Cheap: Eat Well on $4 a Day," this New York Times bestseller will not only boost the budget but also tickle the taste buds as author Leanne Brown teaches readers the secrets to mouth-watering, healthy meals that will not break the bank.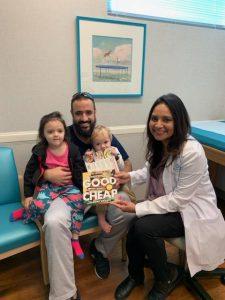 Longstreet Clinic distributed the books – donated to the United Way by Brown and Workman Publishing – via numerous avenues, presenting the publications directly to Longstreet patients and employees as well as supplying almost 3,000 to local nonprofits and organizations, including:
"We are proud to offer valuable resources to our patients, as well as residents throughout the community, in any way we can," Longstreet Clinic CEO Mimi Collins said. "These cookbooks are just a small part of a very important pursuit of our practice over the past 25 years to provide access to resources, innovative technology and health expertise to create a healthier community. And we are happy to know that they can make a difference in the lives of residents throughout northeast Georgia."
This distribution came about thanks to Longstreet's partnership with the Reach Out and Read program, funded by United Way of Hall County, in which Longstreet pediatricians present books to families – all with the stated goal of increasing childhood literacy.
"We received these cookbooks and wanted to ensure that our community had access to extremely helpful information, plus we knew that Longstreet Clinic offered us a wonderful avenue for widespread distribution because of their success with the Reach Out and Read program," said United Way of Hall County President and Chief Professional Officer Jessica Dudley. "We are so thankful to Leanne Brown and Workman Publishing for their donation."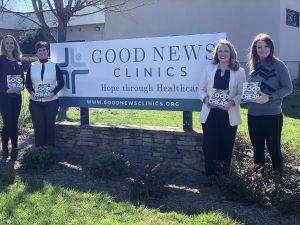 The Reach Out and Read program encourages the importance of early literacy from birth by having a Longstreet Clinic pediatrician offer a language- and age-appropriate book during every child's well visit from age 6 months to 5 years in its Hall County pediatric offices.
Since beginning the program in 2017, Longstreet's pediatricians have provided over 20,000 books and counting to families along with a "prescription" to parents and guardians that they read aloud with their infants, toddlers and preschoolers every day. This is especially important when you consider that, according to studies, 95 percent of a child's brain is formed before they begin formal education in the schools, meaning that early and immediate development could make a meaningful difference to a child's entire future.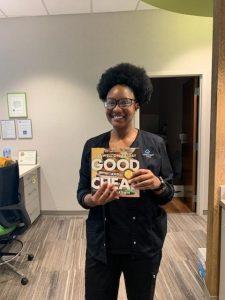 "The Reach Out and Read program has become part of the fabric of our practice, as our pediatricians believe that total health includes all aspects, including a strong mind. And what are books if not food for the brain?" said Longstreet pediatrician Eugene Cindea, M.D. "Presenting these cookbooks is an extension of that belief, while going one step beyond – they also help provide fuel for the body."
To that end, each of the cookbooks will be distributed alongside a bookmark reminding parents and guardians that, "the best super foods for the mind is a book. Take 15 minutes a day to read to a child and help them learn and grow."
"Often, less healthy food options are the cheapest options. Many of our clients are forced to make difficult decisions each day, 'do I eat or fill my medicine', 'do I eat or pay my power bill', so these cookbooks can help empower and educate our clients that you do not have to sacrifice healthy meals in order to eat on a budget. They represent both a learning opportunity and the promise of hope to so many of our clients," Georgia Mountain Food Bank Executive Director Kay Blackstock said. "We help provide critical resources to thousands of food insecure families and individuals throughout north Georgia. We are grateful for our relationship with Longstreet Clinic because cookbooks like this add value to the supplies that they are able to receive through the efforts of so many across our community."