BRASELTON, Ga. – People living in and around the Braselton area will soon have more convenient access to advanced cancer care, as Northeast Georgia Medical Center (NGMC) and Longstreet Clinic broke ground on an expanded Cancer Center this afternoon.
"This new, integrated space will provide patients a convenient and advanced destination for personalized and comprehensive cancer care, while also increasing collaboration between physicians and staff," says Charles Nash III, MD, FACP, medical director of NGMC's Cancer Services and medical oncologist with Longstreet Clinic. "Currently, our cancer patients can receive consultation, evaluation, management and treatment by Longstreet Clinic medical oncologists and Northeast Georgia Physicians Group (NGPG) radiation oncologists in Medical Plaza 1 – but the spaces are separate and weren't originally designed specifically for cancer care."
Expected to open in fall 2021, the new Cancer Center will house Longstreet Clinic's medical oncology practice and NGPG's radiation oncology services in the same space – making it easier for patients who need to see both practices and allowing for better care coordination and collaboration between cancer providers. It will also include a dedicated entrance, a larger waiting/reception area and increased visibility from the road.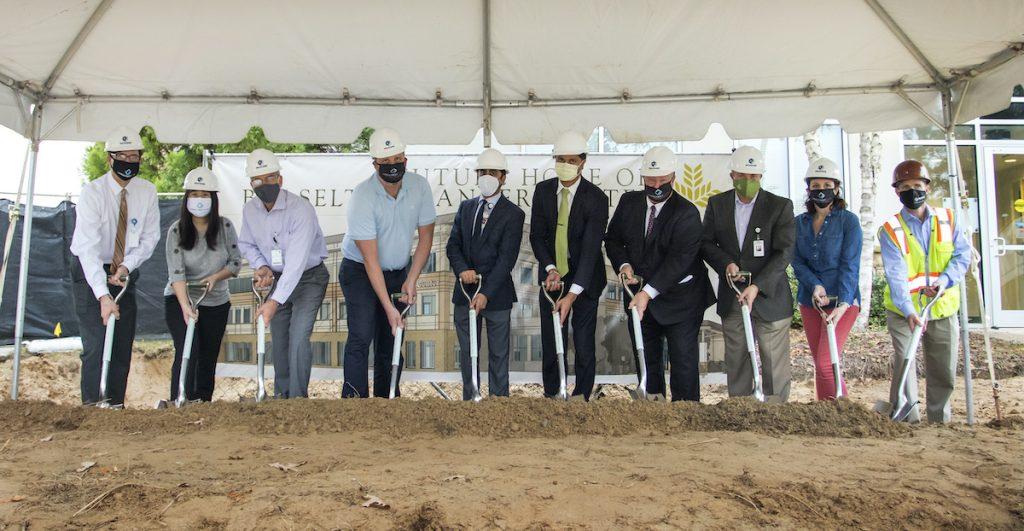 Longstreet Clinic's medical oncology practice will expand substantially – more than doubling the infusion suite and support services space. Exam and laboratory space will also expand, allowing the office to support up to four full-time providers. In a later phase, NGPG Radiation Oncology will add a second linear accelerator to better serve patients.
"Cancer care is a vital service, especially as the population continues to grow throughout the Greater Braselton area," says Anthony Williamson, president of NGMC Braselton. "We're excited to be partnering with Longstreet Clinic as we expand our physical footprint and treatment capabilities to give our community the efficient and high-quality treatment they need."
Through the expertise of 12 medical oncology providers, Longstreet Clinic is dedicated to providing the highest-quality, compassionate oncology and hematology care. Longstreet is also one of only seven practices in Georgia to be certified by the American Society of Clinical Oncology's Quality Practice Initiative (QOPI).
NGMC cares for almost 3,000 new cancer patients and is an affiliate of Winship Cancer Institute of Emory University, which gives people access to closely coordinated treatment plans and access to more than 275 existing therapeutic clinical trials and research projects led by some of the top clinical investigators in the country. Learn more at nghs.com/cancer.
Watch a live stream of remarks from the groundbreaking

###
ABOUT NORTHEAST GEORGIA MEDICAL CENTER
Since 1951, Northeast Georgia Medical Center (NGMC) has been on a mission of improving the health of our community in all we do. With hospitals located in Gainesville, Braselton, Winder and Dahlonega, the four NGMC campuses have a total of more than 700 beds and more than 1,100 medical staff members representing more than 50 specialties. NGMC is part of Northeast Georgia Health System, a non-profit that cares for more than 1 million people across more than 18 counties. Learn more at www.nghs.com.
ABOUT LONGSTREET CLINIC
Longstreet Clinic is a primary care and multi-specialty practice devoted to providing high quality medical care at convenient locations across Northeast Georgia. Through a fully-integrated, multi-disciplinary approach, Longstreet Clinic ensures the most appropriate and cost-effective services are delivered in a caring and compassionate manner. Visit longstreetclinic.com for more information about our providers, services and locations.