GAINESVILLE – Hall County doctor Andrew Reisman, M.D., recently was selected vice chair of the Georgia Composite Medical Board. Reisman is a board-certified physician with Longstreet Clinic Family Medicine in Oakwood, where he has practiced since 1996.
Reisman has been a member of the Georgia Composite Medical Board since 2019. He was appointed by then Gov. Nathan Deal and referred for Georgia Senate confirmation by current Gov. Brian Kemp. He will assume the role of chairman in July 2023 at the discretion of the governor.
The Georgia Composite Medical Board is an independent agency tasked with protecting the health of Georgians through the proper licensing of physicians and enforcement of the Medical Practice Act (enacted by Georgia legislature in 1999). The board includes 16 members (15 voting members and one ex-officio) appointed by the Governor and confirmed by the State Senate.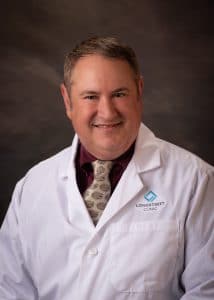 "I'm honored to continue serving on the board and working with so many of my dedicated colleagues to fulfill our mission to protect the health of the citizens of Georgia," Reisman said.
No stranger to service in the medical community, he is a longtime member of the Medical Association of Georgia where he served for many years on its board of directors, including as president of the organization from 2019-2020 during the height of the COVID-19 pandemic. Dr. Reisman also was a member of Gov. Kemp's COVID-19 Task Force and served on the 2019 State Senate committee on Tort reform. He also is a member of the Hall County Medical Society, the American Medical Association, and the Georgia Academy of Family Physicians. Reisman has also served in leadership roles at Longstreet Clinic, including as a member of its Governing Board.
Certified by the American Board of Family Medicine, Reisman earned his medical degree from the University of Miami and completed his family medicine residency at the University of Maryland. He also is certified as part of the National Committee for Quality Assurance (NCQA) Physician Recognition Program for Diabetes and Heart/Stroke Care. His practice is designated as an NCQA Patient-Centered Medical Home.
Reisman lives in Gainesville with his wife, Hall County Magistrate Judge Elizabeth Reisman, and their children Robert, Charlie and Caroline.