At Longstreet Clinic Pediatrics, we know caring for a newborn for the first time – or second or third! – can feel overwhelming at times. That's why we're here to help you by offering BABY CARE 101.

Baby Care 101 provides expectant and new families with essential information on all aspects of caring for your new baby including feeding, bathing, well baby visits and when to call the pediatrician. In this presentation, we will discuss a variety of topics of interest to new parents.
This information was formerly provided in-person at a seminar once a month, but we are excited to now deliver this helpful information to you in the comfort of your own home, available at any time.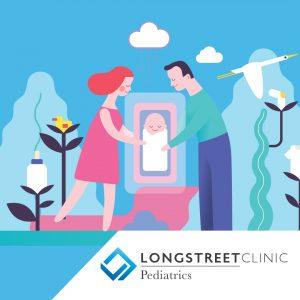 Don't forget that at Longstreet Clinic Pediatrics, we have 5 convenient locations in addition to WeeCare in Gainesville. When you select Longstreet Clinic Pediatrics as your pediatrician, you are welcome to take your newborn to the office most convenient for you, or use WeeCare for well baby visits for the first 9 months.
For well baby visits only, WeeCare offers a small, intimate office setting with four patient exam rooms set up for newborn check-ups at 2 weeks, 2 months, 4 months, 6 months and 9 months of age.
Please contact us if you are interested in touring WeeCare or any of our locations.