WINDER – Gwen Garner-Rouse is very nearly a walking miracle.
In September 2019, the then 69-year-old retired college administrator suffered an aneurysm of her superior mesenteric artery (which supplies blood to much of the digestive tract) and was life-flighted to Northeast Georgia Medical Center (NGMC) in Gainesville where she received life-saving surgery from Dr. Nathan Creel.
"I was in a coma for two weeks, and, as I was recuperating, I was told that 1.6 percent of people that have this survive it, and many of them that do end up on a ventilator or on dialysis," said Garner-Rouse, who is now fully recovered from the event, despite suffering a bleed that required 100 units of blood products following the aneurysm. "I'm O-negative, and they gave me so much O-positive during the night that it actually changed my blood type temporarily."
So, the fact that the devoted wife, mother and grandmother is walking at all is due to a number of incredible factors – including fast-thinking and skilled medical personnel and an attentive family.
Perhaps paramount in Garner-Rouse's recovery, however, was a decision she made in the spring of 2018.
Watch Gwen's Amazing Story on Fox 5

Prior to then, Garner-Rouse suffered from obesity and several complications brought on by the condition – sleep apnea, back pain and high blood pressure amongst them. And following years of yo-yo diets, exercise regimens and the psychological effects of battling weight issues, Garner-Rouse took the advice of her doctor and looked into bariatric surgery.
It was a voyage of discovery that culminated in gastric bypass surgery, performed by Dr. Miguel B. del Mazo of the Longstreet Clinic's Center for Weight Management.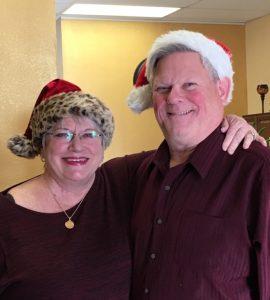 It was a decision that, ultimately, saved her life on that fall night of 2019.
"Dr. Creel told me that he had about two minutes to save my life, and that if I had still been obese when this happened that he might not have been able to find the source of the bleeding," Garner-Rouse said.
Thanks to the gastric bypass, and a determined post-operation regimen, Garner-Rouse had lost over 150 pounds in almost 18 months, enabling Dr. Creel to work quickly and more efficiently on a patient that he knew faced a perilous situation.
"Obesity multiplies all kinds of complications in the ICU and in post-operation recovery," Dr. Creel said. "It's called 'morbid obesity,' for a reason. And the fact that she had lost all that weight made a huge difference for her outcome. It was a difficult surgery, and a lot of things came together for her in a good way."
And to think it almost didn't happen.