Dr. Marti Gibbs' servant-leader mindset has long made a positive impact on patients and fellow physicians at northeast Georgia's Longstreet Clinic.
Now Gibbs, a board-certified family medicine physician, is set to bring that same approach as the multi-specialty medical group's President and Governing Board Chairman. Elected by the members of the Clinic's physician-led Governing Board, she becomes the first female to hold the position at Longstreet.
And Gibbs says she is very much looking forward to putting her energies into the task of leading Longstreet into its 25th anniversary year during a time of unique healthcare challenges.
"I am so proud to be a part of this physician-led practice, and I view serving in leadership as a way of giving back to the organization," said Dr. Gibbs, a Jefferson native that joined Longstreet Clinic in 2001 and practices at its Oakwood location. "I want to continue our healthcare mindset of quality care focused on providing evidence-based medicine, comprehensive care and population-focused management."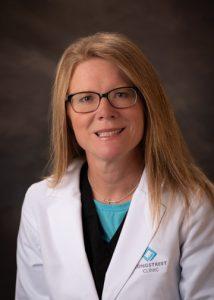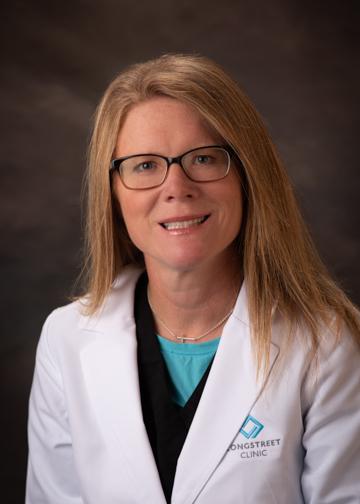 After previously serving on Longstreet Clinic's Governing Board, Dr. Gibbs' determination and efforts had already made their mark, as she helped guide the Clinic's adoption of Patient Centered Medical Home (PCMH) best practices – a pursuit that led to Longstreet earning and maintaining prestigious designation from the National Committee for Quality Assurance as a Level 3 PCMH provider in numerous aspects of its care.
NCQA is an independent nonprofit organization that works to improve healthcare quality through administration of evidence-based standards, measures, programs and accreditations, the NCQA annually awards the title of PCMH to those providers who demonstrate utmost attention to improving patient-centeredness and feedback, as well as providers who concentrate on the patient as a whole, with an extra focus on those patients considered high-risk – either due to health or socio-economic conditions. Dr. Gibbs also is certified by the NCQA Diabetes Physician Recognition Program.
Gibbs' devotion to best practices and serving northeast Georgia's healthcare needs also earned her selection to Atlanta Magazine's "Top Doctors" honors for five straight years (2016-2020). And the fact that she has made history only adds to the pride felt by Longstreet Clinic CEO Mimi Collins, who has been in the position since the clinic's founding in 1995.
"Dr. Gibbs' commitment to her patients and fellow physicians made her the ideal person to serve as president and board chair," Collins said. "I am happy for her and excited for us as a group, as I think her leadership will serve us well as we begin a new decade filled with changes and challenges to providing quality, innovative health care in our region."
Dr. Gibbs' appointment reflects a growing trend throughout healthcare, as female physicians increase their presence in the field. In fact, an AthenaHealth.com survey recently revealed that 60.6 percent of doctors under the age of 35 are female. In the next-highest age bracket (35 to 44 years of age), women physicians represent 51.5 percent of the workforce. The same study showed that, in 2017, the number of women enrolling in U.S. medical schools exceeded the number of men for the first time, according to data from the Association of American Medical Colleges.
For her part, Dr. Gibbs, who has professional affiliation with the American Academy of Family Physicians, the Medical Association of Georgia and the Christian Medical and Dental Society, is focused on continuing the progress and pursuit of excellence set forth by her predecessors at Longstreet. It is an approach that helped Longstreet Clinic develop into one of the healthcare leaders in northeast Georgia – a group that currently includes more than 200 doctors across 18 specialties and 10 locations.
"Longstreet Clinic has expanded in locations and specialties and broadened its influence in northeast Georgia. We've also added more primary care locations in addition to other specialty locations, and we're expanding the scope of practice, including in providing several essential specialties to our region, such as neonatology, vascular surgery and endocrinology," Dr. Gibbs said. "This helps us continue to keep the needs of our community in focus."
That community focus certainly extends to the novel coronavirus, which has made a significant impact on northeast Georgia. And Dr. Gibbs says Longstreet's approach to the pandemic and the sickness it produces, COVID-19, will remain a focus of her leadership.
"This virus has already and will continue to shape the delivery of healthcare," Dr. Gibbs said. "But with it comes the opportunity to serve our community and offer care and advice to our area. We are facing a 'new normal,' but, no matter the situation, we will continue to strive to meet the healthcare needs of northeast Georgia."
It is a challenge that Dr. Gibbs, also a mother of four to Zack (17), Ethan (16), Taryn (14) and Mia (12) and wife to husband Mark, embraces wholeheartedly.
"My husband and I discussed what this position means thoroughly with our family and prayed about it through every step of the process," Dr. Gibbs said. "I am honored to have this opportunity, and I'm ready to serve my fellow physicians, patients and Longstreet Clinic employees."
Dr. Gibbs obtained her medical degree from Mercer University School of Medicine and completed her residency at Spartanburg Regional Medicine Center in Spartanburg, S.C., and at Atlanta Medical Center. She is certified by the American Board of Family Medicine and maintains hospital privileges at Northeast Georgia Medical Center in Gainesville.
Dr. Gibbs is actively involved in the children's ministry at 12 Stone church in Buford. She also enjoys running and watching her children compete in sporting events.