Two Longstreet Clinic employees were honored Feb. 27, 2019, at the second annual Healthy Hall Awards of Excellence luncheon presented by the Greater Hall Chamber of Commerce.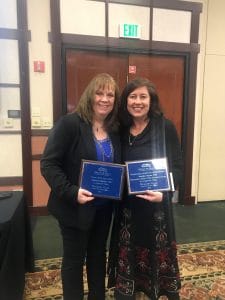 Theresa Glidden, LPN, received the "Nurse of the Year" award. She is an employee in the Obstetrics & Gynecology department and has been employed by Longstreet Clinic since 2016.
Heather Hayes, FNP-C, who also works in Obstetrics & Gynecology, received the "Administrator of the Year" award for her work as executive director of the Edmondson Telford Child Advocacy Center. Heather has been with Longstreet Clinic for more than 15 years.
The Healthy Hall program spotlights those in the healthcare industry making a significant impact on quality of life through excellence in health and wellness. Awards recognize outstanding professionals in more than a dozen categories.
Additional 2019 Longstreet Clinic finalists included:
• Mimi Collins, CEO
• Dr. Betsy Grunch (neurosurgery)
• Dr. Buddy Langston (retired pediatrician)
• Dr. Fatimah Manzoor (internal medicine)
• Abigail Reeves, LPN (pediatrics)
For more information about the Healthy Hall Awards of Excellence and a complete list of winners, click here.