Longstreet Clinic Vascular & Vein recently welcomed Daniel Jose Torrent, MPH, M.D., to its growing practice.
A board-certified vascular surgeon, Dr. Torrent completed his undergraduate degree at the University of Florida in Gainesville, Fla., before earning both his Master of Public Health and Doctor of Medicine degrees at Ohio State University in Columbus, OH. He completed residency training in general surgery at East Carolina University/Vidant Medical Center in Greenville, N.C., before finishing a fellowship in vascular surgery at the University of Alabama at Birmingham.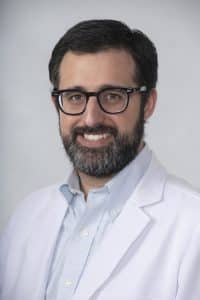 Dr. Torrent is certified by the American Board of Surgery in both general and vascular surgery. He joined Longstreet Clinic in May after practicing as a vascular surgeon in Virginia since 2020, where he also served as an assistant professor of surgery at the Virginia Tech's Carilion School of Medicine. In addition, Dr. Torrent was on faculty for the surgery training program at Carilion Clinic, as well as part of its Aorta Center.
He is a member of Society for Vascular Surgery, Society for Clinical Vascular Surgery, Vascular and Endovascular Surgery Society and the Southern Association for Vascular Surgery. Fluent in both English and Spanish, Dr. Torrent is welcoming new patients at offices in Gainesville and Suwanee.
He and his wife have three children and live in Cumming, Ga. Dr. Torrent said they are happy to be back in Georgia, closer to family, and he is looking forward to being part of Longstreet Clinic.
Longstreet Clinic Vascular & Vein's experienced and knowledgeable surgeons are trained in the diagnosis and management of diseases affecting all parts of the vascular system, ailments from varicose veins to peripheral artery disease. Dr. Torrent joins fellow vascular surgeons Charles B. Moomey Jr., M.D., FACS, John William "Will" Perry, M.D., and C. Dan Procter Sr., M.D., FACS.
Longstreet Clinic vascular surgeons have hospital privileges at both Northeast Georgia Medical Center Gainesville and Northside Hospital Gwinnett, and perform outpatient procedures at Longstreet's Vascular Access Center in Gainesville.
To schedule an appointment with Longstreet Clinic Vascular & Vein, contact 678-207-4000.
More information about new and existing providers can be found at www.longstreetclinic.com/providers.