In early April, Longstreet Clinic neurosurgeon Betsy Grunch, M.D., was in her Gainesville office diagnosing a different type of problem. New CDC recommendations were spurring revised rules in the private practice and hospital where she works – Northeast Georgia Medical Center – that required all employees to wear masks at all times while working, from doctors and nurses to appointment schedulers and administrators. She looked at the limited supply of disposable medical masks in her own office and knew they wouldn't go far.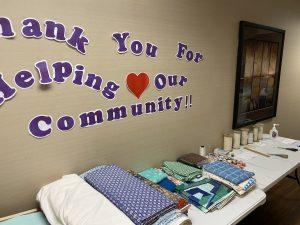 Friends and community members who'd been generously sewing cloth masks for healthcare providers were running into a problem of their own – an elastic shortage. Dr. Grunch was willing to provide them with supplies, but a trip to a local fabric retailer revealed the smaller size elastic used for masks was becoming as hard to find as toilet paper and disinfectant spray.
A conversation with Grunch's aunt led the two women to her grandmother's long-closed fabric store on Old Cornelia Highway. Inside they found a treasure trove of old but usable sewing supplies including reams of fabric, spools of thread and other items. Most importantly they discovered elastic, around 15,000 yards of it.
She had one more problem to overcome: "I can sew people, not masks," she wrote on Facebook, seeking community help. She offered up the materials to anyone in the area willing and able to sew cloth masks for local healthcare workers or those in need. Within hours she had the volunteers.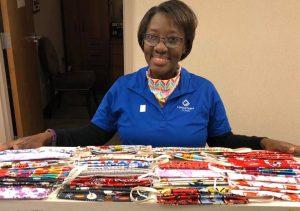 In the first two days, she's had 40 people stop by her office (masks required) to pick up supplies. And when local media interviewed Dr. Grunch about the project, the remaining material flew out the door.
The completed masks are beginning to trickle in and be put to good use. Someone even volunteered to fulfill a request for masks for 30 hospital plant operations staffers, plain colors for the mostly male crew.
Another volunteer was Marsha Stringer, a certified nurse practitioner at Longstreet Clinic who's been busy seeing patients both in the hospital and in the clinic. She decided to use her skill and spare time to sew cloth masks, aided by Dr. Grunch's elastic.
"I didn't realize how far it would go," Dr. Grunch said. "It's been a really cool experience."