The best way to prevent the spread of the flu is to get vaccinated each year. That is especially the case or the 2020-21 flu season, which will arrive amid the ongoing COVID-19 pandemic. The CDC recommends that everyone age 6 months and older get a flu shot, especially those at higher risk of complications from the flu.
Longstreet Clinic currently has the flu vaccine available at our primary care and urgent care locations across north Georgia, including all 5 of our pediatric locations. We also are offering drive thru shots for adults each Saturday in October from 9 a.m. to noon in Gainesville. Click here for more information. An annual flu shot is covered as preventive care by most insurance providers. Simply call your doctor's office to set up a visit. Walk-in visits are available at our Gainesville Urgent Care location and at our Oakwood Family Medicine office. (View our COVID screening procedures here.)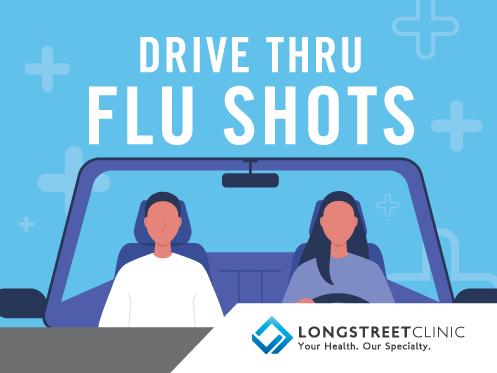 The flu vaccine also is available at many retail locations across the region. While we're happy to assist you with a flu vaccine, the most important thing is not where you get the shot, but that you get it. And the sooner the better. It takes about two weeks after vaccination for antibodies that protect against flu to develop in the body.
Influenza (flu) is a respiratory illness caused by influenza viruses and can cause mild to severe illness. At times can lead to death. The best way to prevent flu is to get a flu shot each season. This year's flu shot is quadrivalent, meaning it protects against four strains of influenza (two A, two B). The flu vaccine can also help lessen the severity of flu's symptoms.
According to the CDC, flu is different from a cold and usually comes on suddenly. People who have flu often experience some or all of these symptoms:
Fever or feeling feverish/chills
Cough
Sore throat
Runny or stuffy nose
Muscle or body aches
Headaches
Fatigue (tiredness)
Vomiting and diarrhea (more common in children than adults)
The vaccine does not cause the flu, though some patients may experience a mild reaction at the vaccine site or low-grade fever, headache or muscle aches.
Longstreet Clinic encourages you to get a flu shot, wear a mask around others, avoid large social gatherings, keep at least 6 feet of distance between you and others, and to wash your hands.
Dr. Andrew Reisman and other local healthcare providers discuss the importance of the flu shot amid the pandemic. Read more.