It is with sadness that Longstreet Clinic announces the passing of retired pediatrician Everett Roseberry, M.D. He was 79.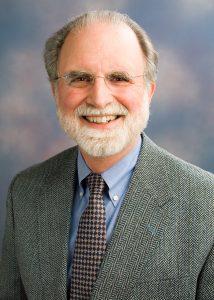 Dr. Roseberry practiced pediatric medicine for more than 40 years, arriving in Gainesville in 1978. After serving as chief resident at Egleston/Emory University, he joined Harvey Newman, M.D., Larry Morris, M.D., and Buddy Langston, M.D., at Northeast Georgia Pediatric Group. In 1995, that group was one of the original practices that merged to form Longstreet Clinic. Dr. Roseberry treated thousands of young patients across Northeast Georgia and practiced at Longstreet Clinic Pediatrics offices in Gainesville and Baldwin until his retirement in 2018. He also served as president of Longstreet Clinic from 2004 to 2006.
Dr. Eugene Cindea, who practiced alongside Dr. Roseberry for more than two decades, spoke to AccessWDUN about his friend and colleague.
"Everett thought that it was his responsibility – and our responsibility as pediatricians – to give the best medical care to every child," Dr. Cindea said. (Listen to the full segment, which originally aired on April 13, 2021, here.)
"Everett believed that he had a gift from God and that gift from God was his ability to be a pediatrician," Dr. Cindea added. "He felt so strongly that it wasn't a gift to him, it was a gift to share."
At the time of his retirement in August 2018, Dr. Roseberry reflected on his career and decision to become a pediatrician.
"I think the success of the original four was thanks to taking really good care of people and practicing good medicine in the process," he said then. "I'm fortunate to practice with really good physicians and to have really good support staff who believe in how we practice medicine.
Dr. Roseberry added that when he was deciding the type of medicine he wanted to practice, he was drawn to opportunities to take care of patients over a long period of time, instead of the more problem-based or episodic encounters found in specialties such as surgery.
"I still have people who stop me out in the community to tell me about their kids," he recalled. "One person told me that I had seen her, her mother and her grandmother, and that Dr. Langston had seen her great grandmother. It's humbling and tremendously gratifying to be trusted over that long period of time."
Roseberry gravitated toward pediatrics because of the "blank slate" children present, and the ability to have a profound impact. "Kids get sick quickly and get well quickly," he said. "If you do the appropriate thing at the time, you can save a lifetime."
And children crying never seemed to bother Dr. Roseberry as much when he knew he was doing his best to help them. "I knew how I loved my kids and I knew if they were sick, I'd want someone to care for them like I did," he added.
Those who knew him and worked with him spoke of common themes – his compassion, his heart and his faith. Charlene Hall, who retired in 2019, first worked as Dr. Roseberry's nurse when she joined the Clinic in 1989, eventually taking the role as the practice's vaccine coordinator. She didn't just work with Dr. Roseberry; he treated her children and even a few of her grandchildren.
"He cares a lot for his patients, and took care of them as well as their parents," she said in 2018. "He took time with them and tried to put them at ease if they were scared."
Pam Patterson, practice administrator for Longstreet Clinic Pediatrics, started working with Dr. Roseberry the same year he began practicing – 1978.
"He was a leader – not only with his fellow providers, but he also was president of the Clinic. He had a vision for the future of what we need to do for the kids in our community," Patterson said. In addition to Gainesville and Baldwin, Longstreet Pediatrics now has offices in Braselton, Buford and Oakwood.
Jean Boyd, a longtime nurse at the Clinic who also retired in 2019, said that in addition to his heart and his compassion, those in the office would miss his expertise when he stepped away. "This department will miss his gray hair and gray beard knowledge. Our providers still go to him if they encounter something they've never seen before," she said at the time.
Patterson remembered how he spent time with newer providers, telling them about the practice's history and reiterating why it's important to have a heart for children in this role. "That it's a calling, not just a job," she said.
It's a calling that Roseberry reflected on with humility and reverence.
"You can look back and see God's guiding hand over your life," Dr. Roseberry said as he retired. "When I was not knowledgeable enough, he made me so."
He recalled cases where there seemed no clear answer, when all seemed lost, and yet healing or grace became present in those moments.
"At times, medicine can't always fix things, so you can point the person to a source of strength and encouragement," he said. "The Bible promises that God will not forsake us, and as your beard gets grayer, you will find that is truer."
It is a promise that Roseberry understood personally, having endured the loss of a son, Chris, a U.S. Marine Corps veteran, in 2013. He referenced 2 Corinthians 1: 3-5, verses that speak of the comfort that God provides in times of trouble, so that we may in turn comfort others.
Praise be to the God and Father of our Lord Jesus Christ, the Father of compassion and the God of all comfort, who comforts us in all our troubles, so that we can comfort those in any trouble with the comfort we ourselves receive from God. For just as we share abundantly in the sufferings of Christ, so also our comfort abounds through Christ.
Longstreet Clinic sends our condolences to Dr. Roseberry's wife Lin, his children and grandchildren. To read his full obituary, click here.