Our physicians and providers are committed to providing the best care possible to all of our patients. One of the onsite professional services we offer is access to our long-standing certified (ICAVL), state-of-the-art noninvasive vascular lab. This lab was the first ICAVL-certified vascular lab in Northeast Georgia.
Utilizing the most advanced techniques in diagnostic testing, the professional team at Longstreet Clinic Vascular & Vein provides top-notch, personalized care through comprehensive, non-invasive testing. Our physicians are Registered Physicians in Vascular Interpretation (RPVI).
After a thorough inspection of operational and technical functions by a panel of experts, we were awarded full IAC accreditation for providing outstanding quality patient care in compliance with national standards.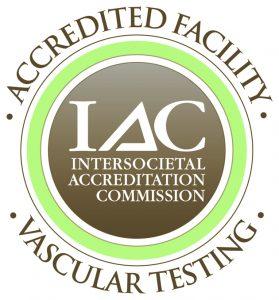 The IAC analyzes every component of daily operations to ensure that quality patient care is delivered consistently. Our accredited center is one of 50 elite centers across the nation to earn IAC accreditation.
"While we have always prided ourselves on providing top quality vascular and vein care to our patients, we are proud that care has been recognized by the IAC, making Longstreet Clinic Vascular & Vein the first accredited vein center in Georgia," said Charles B. Moomey Jr., M.D., FACS.
Vascular Lab Procedures
| | |
| --- | --- |
| Available Tests | Description |
| Abdominal Aorta Duplex Scan/ Visceral Duplex Scan | This ultrasound test is used to assess the arteries that supply blood to major organs including the kidneys, liver and others located in the abdomen (Mesenteric Artery Duplex, Renal Artery Duplex, IVC Duplex). |
| Arterial Duplex Scan with ABIS | Using ultrasound technology, this test assesses the arterial walls and measures blood flow to the arteries of the arms and legs. |
| Carotid Duplex Scan | Testing method using ultrasound technology to measure blood flow in all of the major arteries including carotid, vertebral and subclavian. |
| Venous Duplex Scan and/or Venous Reflux Scan | This test evaluates blood flow in the arms and legs using ultrasound technology. It is highly accurate at detecting blood clots. It also can be used to evaluate for venous reflux. |
National accreditation serves as a "seal of approval" that patients can rely on when choosing where to receive care. Patients Northeast Georgia can trust that our expertise, processes and procedures meet and exceed national standards. At Longstreet Clinic Vascular & Vein, you can expect to receive the highest quality vein care possible. Call 678-207-4000 to schedule an appointment.