Longstreet Clinic has implemented a robust COVID-19 response plan following CDC recommendations around screenings, triage, use of personal protective equipment, and creating the safest environment for our patients, our staff and our providers.
First, if you are planning to come to any of our offices and don't feel well, find out what to do here.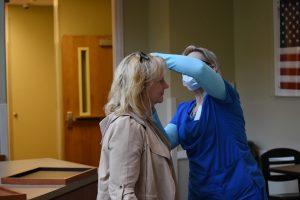 For those with appointments at Longstreet Clinic: When you arrive at our offices to check in, you should expect to have your temperature taken. This is a precaution to keep you and other patients, staff and visitors as safe as possible. At our larger locations (Gainesville's 705/725 Jesse Jewell Pkwy SE campus and Highpoint in Braselton), you will see screening tables in the atrium. One of our staff members will take your temperature and place a sticker with your reading on your shirt.
We also have set up a mobile screening protocol on our Gainesville campus. If you are feeling unwell and call our office or complete a MyChart E-visit, a provider will evaluate your symptoms. If you meet the CDC-recommended criteria for COVID-19 testing, a provider will order a test. Instead of coming into the office, you will be given instructions about our drive-thru testing location. This process enables us to protect our staff by centralizing specimen collection and to conserve personal protective equipment (PPE).
*Please note: due to the limited availability of test kits, you must have an order from your physician in order to receive a COVID-19 test.
Our team is ready to assist you and answer any questions you may have. Thank you for your patience as we all work together to navigate the current public health emergency surrounding COVID-19.