Two Longstreet Clinic orthopedic surgeons are part of Northeast Georgia Medical Center's latest robotic offering – knee replacement surgery. Chris Linberg, M.D., and David Woodbury, M.D., are now offering the procedure at two NGMC hospitals. Dr. Linberg performs the surgery in Braselton, while Dr. Woodbury operates in Gainesville. Each location has a new, specialized robot dedicated to this procedure.
The first robotic-assisted knee replacement surgery at an NGMC hospital was performed on July 3, 2023, by Dr. Linberg, in Braselton. The first procedure at the Gainesville hospital was performed in late July.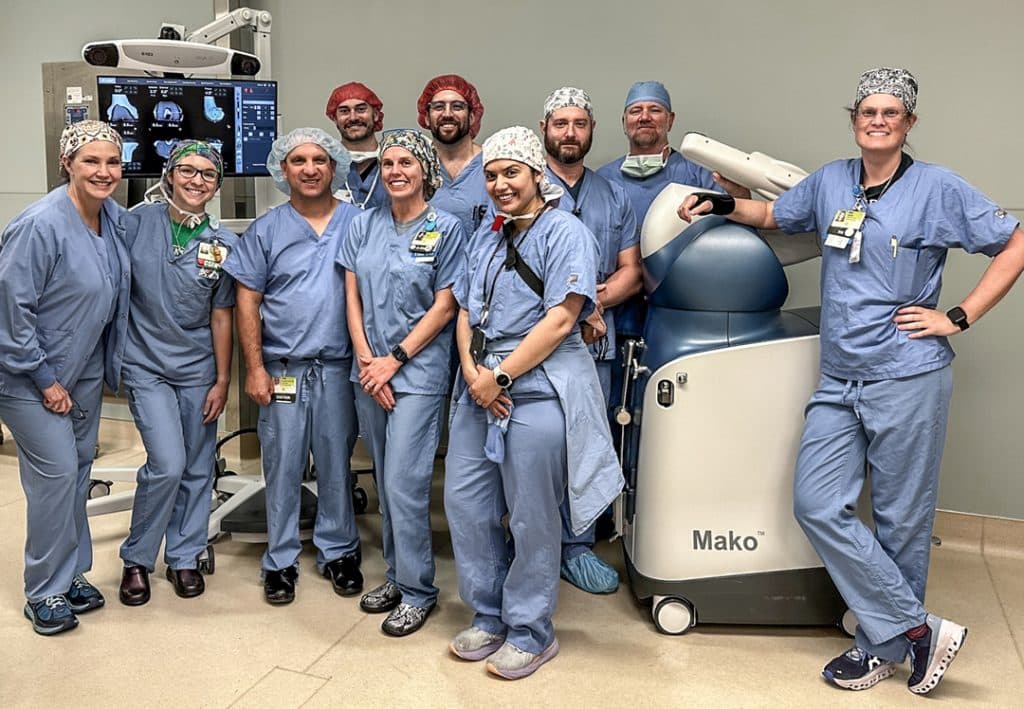 Longstreet Clinic orthopedists have long been part of bringing the most advanced surgical techniques to the community, including minimally invasive procedures like total and partial knee replacements. Now, there is an additional option available for patients suffering from knee pain who need a new joint.
"Among other benefits, robotic knee replacements can result in quicker recoveries due to less disruption of surrounding tissue," said Dr. Linberg. "The robot allows us to perform movements and place implants more accurately and efficiently, contributing to the overall success of the procedure and helping our patients get back to living life to the fullest."
Patients in need of knee replacement surgery should talk with their physician about options. Robotic-assisted knee replacement surgery is beneficial to a wide range of patients, but particularly those who have had prior knee surgeries or injuries.
To learn more about orthopedic surgery offered by Longstreet Clinic physicians, click here.
For more about Northeast Georgia Medical Center's Joint Replacement options, click here.