The outpatient Vascular Access Center is the first of its kind in Northeast Georgia and is able to serve a wide range of patients for a variety of vascular procedures. The Vascular Access Center was designed to allow the Vascular Team to offer a variety of procedures in an outpatient setting.
Vascular Access Center procedures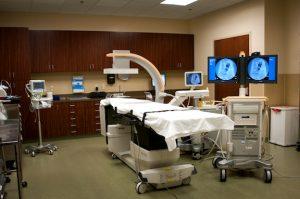 Arteriograms / Angioplasty / Atherectomy /Stenting
Venograms with illiac vein angioplasty and stenting
Inferior vena cava filters placement & removal
Dialysis Access Intervention
Chemo port insertion
If conscious sedation is required, we offer anesthesia support and a nurse-monitored recovery area.
We also have expanded our ICAVL-accredited vascular diagnostic testing lab, the first to achieve this status in Northeast Georgia.
Vascular Lab procedures
Abdominal aorta duplex scan / Visceral duplex scan
Arterial duplex scan
Carotid duplex scan
Arterial testing of upper and lower extremities
Venous duplex scan and/or venous reflux
With this enhancement to services available in the lab, along with opening the Vascular Access Center, we are able to provide significant benefits and convenience to our patients and their families.
Our board certified vascular surgeons, have years of experience. Please call (678) 207-4000 to schedule an appointment. We look forward to serving you.