Northeast Georgia Medical Center (NGMC) Gainesville made history recently when it became the first hospital in Georgia to receive accreditation as a Center of Excellence in Colorectal Surgery, Minimally Invasive Surgery and Minimally Invasive Gynecology. Surgical Review Corporation (SRC), an internationally recognized patient safety organization, recognized NGMC for its dedication to delivering safe, effective and evidence-based patient care through its independent, external process of evaluation.
These new designations are in addition to Robotic Surgery and Hernia Surgery Center of Excellence accreditations, which NGMC was also the first in the State to earn.
"These designations speak volumes to the dedication and commitment of our surgeons and clinical staff at Northeast Georgia Medical Center to provide the highest-quality surgical care – close to home – for our community," says Carol Burrell, president and CEO of Northeast Georgia Health System.
Additionally, SRC recognized 10 NGMC physicians as Surgeons of Excellence. Six of of the 10 are Longstreet Clinic surgeons:
"It's exciting as surgeons that we're able to perform more complicated procedures through smaller incisions which can provide patients with a faster recovery and less pain," said Dr. Chad Copper. "Being designated as a Center of Excellence means cutting-edge, high-quality care from an experienced, caring team of providers – close to home."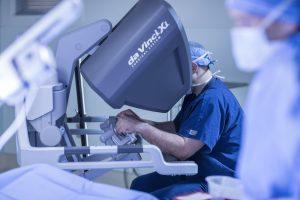 Healthcare organizations and surgeons seeking accreditation by SRC undergo a rigorous site inspection and self-assessment. This process includes physicians, nurses and administrators who are actively involved in the accredited program. The inspection is consultative and educational, presenting best practices to help an organization or surgeon improve its care and services.
"This designation helps our patients throughout the region and state identify specific providers who have met SRC's nationally recognized standards for top quality care," says Andrew Green, MD, medical director of the Robotic Surgical Program at NGMC. "I'm thankful for the leadership of Dr. Fernando Ayciñena, our Colorectal Surgery program director, and co-directors of NGMC's Minimally Invasive Gynecology program – Drs. Jason Bailey and Keshma Saujani – all of whom have been instrumental in helping us become the first in the state to earn these accreditations."
To learn more about robotic surgery at Longstreet Clinic, click here. For more about robotic surgery at NGMC, click here. For more information about SRC and the accreditation process, visit surgicalreview.org.