Following the successful leadership of Dr. Marti Gibbs as Longstreet Clinic president from 2020-2022, Longstreet Clinic's governing board recently passed the baton to Dr. Robert Richard, who assumes the role of President and Board Chairman for a two-year term.
An experienced and respected bariatric surgeon here in north Georgia and throughout his field, Dr. Richard has an extensive track record of leadership within the Clinic and healthcare community. Dr. Richard has served terms on various Longstreet Clinic governing and operational boards, including serving as the chair of the operations management board, a member of the utilization management quality assurance board, and numerous tenures on the executive board.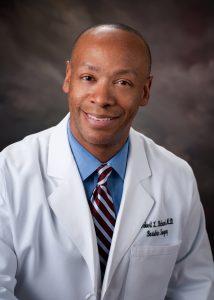 Currently, he serves as Medical Director of Northeast Georgia Medical Center's Bariatrics program and previously served in the same role at Northside Duluth Bariatrics program. He is a member of the American Society for Metabolic and Bariatric Surgery, nationally and the local Georgia chapter.
Dr. Richard takes the helm with enthusiasm, as he looks to continue Longstreet Clinic's forward-thinking and exceptional approach to patient care.
"Dr. Gibbs and our governing board did an incredible job in the face of unprecedented and difficult circumstances – facing down a pandemic – all while maintaining the growth and care standards that have typified Longstreet for more than 25 years," Dr. Richard said. "Our physicians and staff have continued to propel us forward, never being satisfied with the status quo and remaining at the forefront of patient care and innovations. Not only have we invested in new technologies, but we have also looked at the way we deliver care to our patients creating new pathways to deliver healthcare that keep the patient experience in mind first with re-imagined programs like our Breast Center and Neuroscience & Orthopedic Center. This out of the box thinking enables us to continue to provide exceptional and innovative care to our patients. I look forward to the opportunity to continue to provide resources, support and leadership in the continued pursuit of excellence in the care of our patients."
Dr. Richard is joined on the Governing Board by Dr. Geary D. Bush (general surgery), Dr. Eugene Cindea (pediatrics), Dr. Wendy L. Coto-Puckett (neonatology), Dr. Margaret Alisa Davis (internal medicine), Dr. Zack B. Dillard (obstetrics and gynecology), Dr. Britta A. Okyere (physical medicine and rehabilitation), and Dr. Gibbs (family medicine).