COVID-19 testing
If you are feeling unwell, call our office and our staff will help determine the best course of action which could include:
A telehealth visit OR
An in-person visit AND/OR
A COVID test order
If a COVID-19 test is ordered, you will be given instructions about our testing locations.
Screening and safety
As part of Longstreet Clinic's robust and ongoing COVID-19 response plan following CDC recommendations, we are providing enhanced screenings upon arrival to assure safety for patients and visitors, as well as to support patients with symptoms in need of assessment and treatment immediately. These are additional steps toward creating the safest environment for our patients, our staff and our providers. All of our locations across north Georgia are open for appointments. It is safe for you to get the medical care you need. Please do not delay necessary and preventive appointments. Telehealth options also are available and may be appropriate in some cases.
Per CDC guidance, Longstreet Clinic employees, clinical and nonclinical, are required to wear masks unless working inside a personal office. Visitors and patients also are required to wear masks/face coverings. These recommendations for medical facilities are regardless of an individual's vaccination status.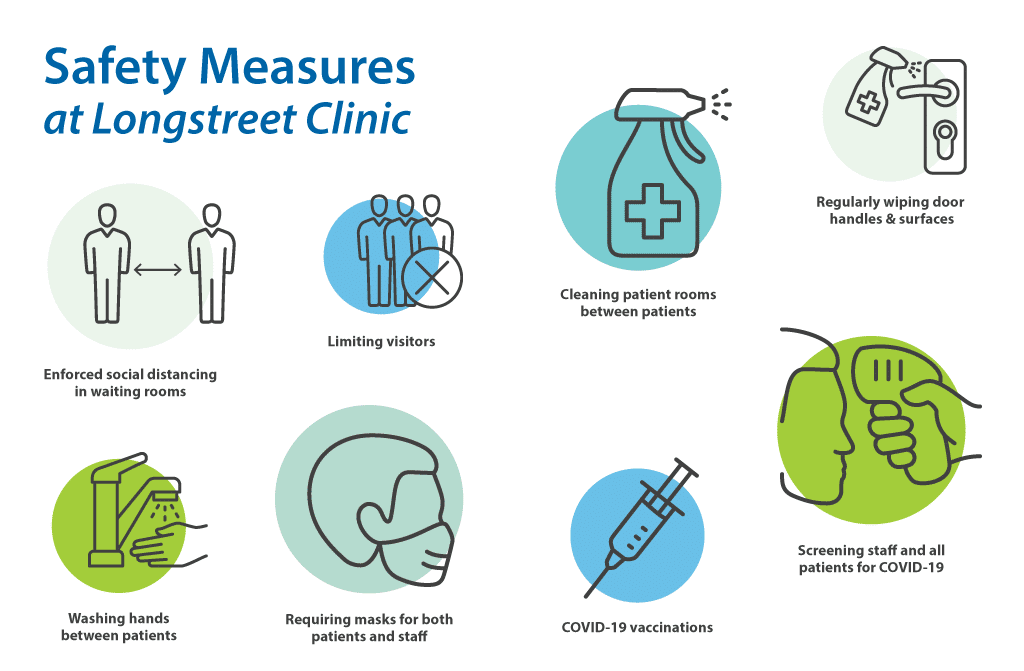 Longstreet Clinic has played a key role in the healthcare community's response to COVID-19 by continuing to treat and manage patients in the outpatient setting, as well as caring for patients within the hospital. This includes maintaining access to medical care for patients in need of acute, obstetrical, pediatric and oncology care, as well as COVID-positive patients who can be managed at their homes through telehealth. This service helps patients in an outpatient setting, avoiding higher intensity sites of care that should be preserved for the more critically ill.
Read more about why it's important for you to get preventive care and screenings as well as regular follow-up care for chronic conditions.
Additional procedures
In alignment with CDC recommendations, we require everyone visiting our offices to wear a mask or cloth face covering except children younger than 2 and those with a disability who cannot wear a mask, or cannot safely wear a mask, for reasons related to the disability. (We currently have a limited visitation policy, so please review it here before arrival.)
In late April 2020 as COVID-19 began its first surge locally, Longstreet Clinic's coronavirus task force took additional steps to enhance screening procedures and triaging at our largest campus in Gainesville. Screeners asked a series of questions about patient symptoms and whether or not you've been around anyone diagnosed or tested for COVID-19. They also conducted temperature checks. Most patients were able to proceed to their appointments. Those exhibiting COVID-19 symptoms or who had possible exposure were isolated and given additional screening before determining next steps. This triaging has been suspended as cases of COVID-19 in our community plummeted and vaccines became more widely available. However, our task force continues to meet regularly to evaluate current positivity rates in the community and will scale up enhanced protocols as needed.
Certain safety procedures are still in place. Currently patients are screened upon arrival before checking in for their appointments. Masks are required. Social distancing is enforced in waiting areas. Exam rooms and high touch areas are cleaned regularly. Our visitation policy remains limited. These precautions are intended to keep our patients and staff safe.
Our team is ready to assist you and answer any questions you may have. Thank you for your patience as we all work together to navigate the current public health emergency surrounding COVID-19.
*Please remember: You must have an order from your provider in order to receive a COVID-19 test at Longstreet Clinic.
Originally published May 5, 2020, this article was most recently updated on August 26, 2021.