BUFORD – For years, Jeff Russo dreamed of trekking the famed Camino de Santiago and following in the footsteps of ancient and modern pilgrims alike to bask in the warmth of Spanish sunshine, culture and history.
Russo also knew that – before he set one foot on the Camino's long and winding path – he would have to undergo a much more arduous and important pilgrimage here in northeast Georgia.
"I had been overweight my entire life, and it was getting to the point where everyday life decisions were getting more and more difficult," said Russo, whose 380-pound-frame was also causing myriad health concerns. "I'd already had a hip replacement, and my knees felt like they were about to give out."
The Buford resident admitted the idea of going anywhere caused him anxiety.
"I wasn't sure if they'd even have a chair big enough – and strong enough – to support me," he said. "I'd done things to battle my weight before and had some short-term success, but the weight would always come back and then some. And I looked at my future realistically and realized, that I might not even be able to play with my grandkids with the way things were going."
MAKING A LIFE CHANGING DECISION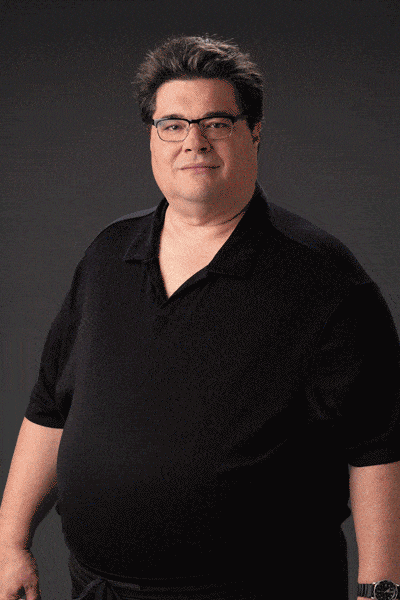 With health fears and thoughts of his future swirling in his mind, Russo decided to visit Longstreet Clinic's Center for Weight Management in order to explore any and all options for sustained weight loss success. There he met with bariatric surgeon Robert Richard, M.D., an experienced bariatric surgeon that has dedicated his practice to treating weight loss patients 100 percent of his time, performing hundreds of weight loss surgeries a year. In addition, in 2020 Dr. Richard was recognized by the Surgical Review Corporation as one of the first bariatric Surgeons of Excellence in Robotic Surgery in Georgia.
"By that point, I already had an idea that I would probably need surgery to make the kind of changes I wanted, and what I learned there only enforced my thoughts," Russo said. "In fact, after meeting with so many wonderful people there, I felt like my life depended on getting not just surgery, but actually two surgeries."
In consulting with the professionals at the Center for Weight Management, Russo asked Dr. Richard about the possibilities of undergoing both a gastric sleeve and a duodenal bypass (also called a duodenal switch).
"Part of the procedure of choosing any bariatric surgery is that you attend group therapy sessions leading up to and after the surgery," Russo said. "And it was in one of those sessions that someone brought up the possibility of doing two types of surgery in order to produce the best chances of long-term success. I did some research and on my own and then asked Dr. Richard about it, and he felt it was a good idea for me."
Therefore, Russo underwent two procedures at once. The gastric sleeve removed 85 percent of the Russo's stomach in order to change the way the body digests and processes food. The duodenal switch, meanwhile, rerouted where the food digested by his smaller stomach entered his intestine.
Together, the bariatric procedures mean that Russo's body can only handle much smaller food portions. And what he does eat is digested in a manner that means that 70 percent of that food is not absorbed as calories. Of course, that also means that the nutrients in Russo's food are not absorbed at a normal rate either – which in turn means that he requires a steady diet of vitamin supplements for the rest of his life. He also must make smart choices in what he does eat and that includes avoiding things such as pizza, coffee, sodas and sweets – all things that Russo used to enjoy regularly.
"It's a mind game, and you constantly have to remind yourself of that," he said. "It's not always easy – but I don't look at any of this as a negative. I look at it this way: What would you give up in order to lose weight? And for me, the answers are simple. Would I give up coffee to lose weight and keep it off? Absolutely."
IMPRESSIVE RESULTS – AND A BIG GOAL
Any time Russo does find himself craving something like a steak – which he no longer eats, instead preferring fish as his main protein – he only need look in the mirror for confirmation that he's doing the right thing.
"I had my surgery in October of 2019. At that point I weighed 380 pounds; now I weigh 210 pounds," said the 60-year-old. "I went from a size 54 – where I couldn't buy clothes at a normal store – to now a size 34, and I can buy clothes in any store in America. But the best is just setting little goals and accomplishing them – because you have to make yourself happy. You do something like this for yourself. If you do it for someone else, you're not going to be successful."
It is that dedication and attitude that have helped ensure his success, and no one has been more impressed than his surgeon and care provider, Dr. Richard.
"Jeff's done everything I've asked him and more; he's been the ideal patient," Dr. Richard said. "And when I have a patient like Jeff – who's following up every three months that first year, who's following up every six months that second year – he's going to be successful, because he's allowing us to participate in his post-operative course, and that's half the battle. The procedure itself is only part of this; it's how the patient manages this operation, and our goal is to help guide them through that."
Russo is also off the cholesterol medicine he once needed, and he believes he may be six months away from coming off his blood pressure medication. His knees no longer hurt when he walks, and he's even starting to work up a weightlifting routine.
"His medical conditions have improved; he's off most of his medications at this point. I think he'll tell you that that's the most excited thing," Dr. Richard said. "Weight is such an essential part of a patient's overall health, that when we can address it in a meaningful way, we can impact so much more than the number on the scale.  We can impact their entire life.  This is why I come to work each day and love what I do."
Russo and his wife, Daryl, also spend hours of time in their garden, cultivating and harvesting their own food from raised beds that they constructed. And, even more importantly, he no longer has to worry about what it may take out of him to play with his four grandkids – or his wife's six grandchildren.
"Before the surgery, there's no way I would have been able to do any of that," Russo said. "It's been a life-altering change. I've accomplished something that, in the back of my mind, I once thought was impossible."
Learn more about Jeff's journey and watch his transformation here.
*********
About the Longstreet Clinic Center for Weight Management
The Center for Weight Management at Longstreet Clinic offers a variety of surgical and medical weight loss programs to be used in combination with healthy lifestyle changes such as proper diet and exercise. Our specialists are some of the top care providers in the state of Georgia. We offer minimally-invasive laparoscopic surgeries, as well as non-invasive techniques and proven medical weight loss programs to help our patients find the path that best fits their individual needs.
About the Longstreet Clinic
Longstreet Clinic is a primary care and multi-specialty practice devoted to providing high quality medical care at convenient locations across northeast Georgia. Through a fully-integrated, multi-disciplinary approach, Longstreet Clinic ensures the most appropriate and cost-effective services are delivered in a caring and compassionate manner. Visit longstreetclinic.com for more information about our more than 200 providers, 19 specialties and 10 locations.