Longstreet Clinic's Center for Weight Management offers an innovative weight loss option to patients looking for a restrictive surgery without the permanent limitations of a gastric bypass.
How the Gastric Sleeve works
The gastric sleeve procedure, also called the vertical sleeve gastrectomy, inhibits the amount of food you can eat by removing about two-thirds of the stomach. Unlike the gastric bypass, no other aspect of the digestive system is affected, so your body will not inhibit your food choices, only the amount you consume. That means, for optimum weight loss with this approach, you'll need a higher level of commitment.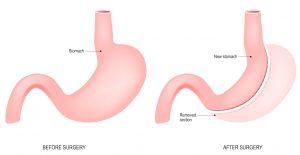 A permanent procedure, the gastric sleeve leaves the stomach in a tube or sleeve shape that can hold about a half to a full cup of food. Unlike the gastric bypass, there's no dumping effect because the intestine remains untouched, so you have the freedom throughout your life to eat sweets or other carb-rich foods. This is often a downside to the procedure, because it heightens your risk of weight regain.
Hormonal Help: Unlike any other obesity surgery, with a large part of the stomach removed, the gastric sleeve decreases the secretion of the hormone ghrelin that controls the desire to eat.
Results from a Sleeve Gastrectomy
Like with the gastric banding, the average weight loss with a gastric sleeve over 2 years runs about 50-60% of excess weight.
It Can Be Turned into a Gastric Bypass
The gastric sleeve can serve as the first stage in a gastric bypass. If your weight loss falls short, you can intensify your body's ability to support your food choices and add the intestinal bypass portion as a second-stage surgery later.
Additional information about Gastric Sleeve Surgery
For more bariatric surgery options available at Longstreet Clinic, click here. Watch our online seminar to get started today!
Ready to get started? Fill out our Weight Loss Surgery history form.
Scott's Gastric Sleeve Testimonial