Longstreet Clinic's Center for Weight Management has performed over 1,000 Roux-en-Y (RNY) gastric bypass surgeries since 2002 with excellent results and a low complication rate. Our RNY patients average 80 percent of excess body weight loss at 24 months post-surgery.
How Gastric Bypass Works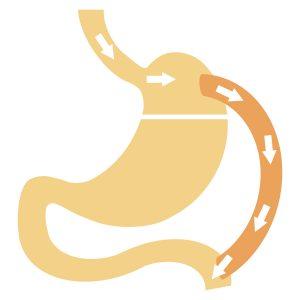 In the Roux-en-Y gastric bypass (RNY), a golf ball-sized part of your stomach is surgically divided from the rest of the stomach, completely separating the two pieces in most cases. The now much smaller stomach severely restricts the amount of food you can take in. The larger lower portion of the stomach never holds food again, but does help with digestion.
A branch of a Y-shaped segment of your small bowel is attached to the new small stomach. The other branch of the bowel remains attached to the "original" stomach. This delays the mixing of food with digestive juices resulting in poorer absorption of calories and nutrients.
As a result, if you eat carbohydrates, including sugar, after the gastric bypass surgery, the passage of "carbs" into your small intestine causes an immediate outpouring of fluid into the bowel and a release of insulin into the blood stream.
As a result, you feel nausea, cramping and diarrhea for about 20 to 30 minutes. Called "dumping syndrome," this keeps you from eating the wrong foods for the rest of your life.
Permanent Changes
With gastric bypass surgery, your body forces you to conform to the same behaviors found in any sensible diet program: eat three meals a day, eat small portions, eat slowly, avoid high calorie foods, and when you're full, stop eating. The difference is that, unlike other methods of weight loss, you must be emotionally prepared to stay on these healthy, strict food choices for the rest of your life.
Results from Gastric Bypass
Nationwide statistics show that 80% of gastric bypass patients lose at least half of their excess body weight and maintain that loss for more than five years. The average weight loss equaled 80% of excess body weight. But this also means that 2 out of every 10 gastric bypass patient failed to lose weight, or they lost it and gained it back within five years.
Because of very quick weight loss within the first few days and weeks of surgery, more than 96% of health problems related to morbid obesity are completely resolved and reversed during that time.
Rebecca's Gastric Bypass Testimonial
Read more about Rebecca's weight loss journey.
Additional Gastric Bypass resources:
Have questions? Watch our online seminar, then fill out our contact form and our office team will reach out to you. Or please call our main office at 770-534-0110 or toll-free at 877-921-0110.
Ready to get started? Fill out our Weight Loss Surgery history form.