In partnership with Northeast Georgia Medical Center and Northside Hospital Gwinnett, our accredited program offers a full service, unique weight loss experience including:
Experienced bariatric surgeons that treat weight loss patients 100 percent of the time, performing more than 500 weight loss surgeries annually.
Access to a registered dietician, support groups, supplements and vitamins, mental health specialists, and other services and resources to help you along your weight loss journey.
Medical and surgical weight loss options including minimally invasive and robotic bariatric surgery procedures.
Three locations throughout north Georgia and telehealth appointments available.
Accreditations & Recognitions
Best of Hall
Voted "Best Weight Loss Clinic" for three consecutive years in the Best of Hall Reader's Choice contest hosted by the Gainesville Times.
MBSAQIP Accredited Center for Bariatric Surgery
Nationally accredited by the Metabolic and Bariatric Surgery Accreditation and Quality Improvement Program (MBSAQIP), a national accreditation program of the American College of Surgeons and the American Society for Metabolic and Bariatric Surgery.  It works to advance safe, high-quality care for bariatric surgical patients through the accreditation of bariatric surgical centers through a rigorous review process.
Blue Distinction Center for Bariatric Surgery
Accredited by Blue Cross and Blue Shield Association (BCBSA) a Blue Distinction Center for bariatric surgery is based on clinical data from hospital registries. Each facility's structure, processes and care outcomes are rigorously evaluated. These criteria include nationally endorsed quality measures, developed in collaboration with medical experts and professional organizations.
Aetna Institute of Quality
Aetna Institutes of Quality is a network of facilities that have been specifically selected for meeting (and surpassing) criteria around experience, standards, support, efficiency, and accreditations.
Cigna Center of Excellence
A facility is recognized as a Center of Excellence when they  achieve the Cigna's highest score for both outcomes and cost efficiency.  These scores are regularly reviewed at participating facilities against Cigna's quality standards.
Surgeon of Excellence in Robotics
In 2020, Surgical Review Corporation (SRC), an internationally recognized patient safety organization, recognized Dr. Robert Richard as a Surgeon of Excellence in Robotic Surgery and Minimally Invasive Surgery as well as Northeast Georgia Medical Center as a Center of Excellence in Robotic Surgery.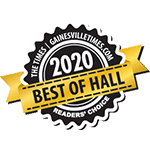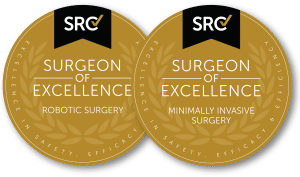 To learn more about Longstreet Clinic Center for Weight Management, contact us today.