Longstreet Clinic's Center for Weight Management is excited to announce that it now offers the latest FDA-approved non-surgical treatment for obesity: the Endoscopic Sleeve Gastroplasty (ESG).
An incisionless procedure, ESG is performed in an outpatient setting. The Center for Weight Management is the only practice in the region to offer this new, leading edge route to lasting weight loss.
During an ESG procedure, surgeons use a specialized endoscopic device to stitch the stomach, shrinking the portion of a patient's stomach that accepts and digests food, ultimately leading to a significant reduction in caloric intake. Combined with a lasting commitment to a healthy lifestyle, ESG can be a kickstarter for substantial weight loss. Perhaps most impressive, the state-of-the-art procedure provides similar results to established bariatric surgeries – but in a quicker, less invasive fashion, with patients often returning to a normal routine after a few days of at-home recovery.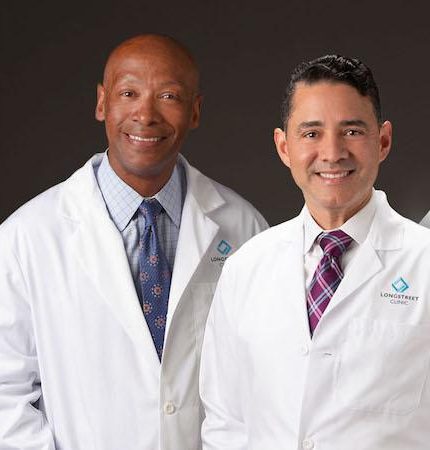 "This is a really big step forward in the treatment of obesity – a condition the Centers for Disease Control recognizes as a chronic illness – and I am really proud to be able to offer ESG here at Longstreet Clinic," Robert Richard, M.D., FACS, FASMBS, said. "ESG is tested and trusted, extremely well-tolerated by patients, and extraordinarily successful for those ready for the commitment that medical weight loss can provide."
ESG may even be used as an alternative to laparoscopic surgeries for those who otherwise do not qualify for bariatric surgery.
A large, randomized clinical study conducted by the medical journal The Lancet in 2022 showed that patients lost an average of 14% of their body weight within one year of undergoing ESG*. Weight loss of this amount can make a massive difference in the life of a patient, including reducing the other health concerns that often accompany obesity. ESG is proven effective at reducing comorbidities including:
High blood pressure
Diabetes
High cholesterol
Sleep apnea
Asthma
Heart problems
How ESG Works
In an outpatient setting, patients receive sedation anesthesia. Longstreet Clinic bariatric surgeons then insert a thin, flexible endoscope into the patient's stomach (via their mouth and throat). This camera-guided endoscopy allows the surgeon to place durable, permanent sutures into the lining of the patient's stomach. The procedure effectively reduces the portion of the stomach that accepts and digests food by 70 to 80 percent.
The entire procedure lasts approximately 30 to 45 minutes and affects only the stomach, whereas certain bariatric surgeries require incisions in the small intestine.
Patients return home the same day as the procedure and begin a liquid diet, gradually returning to a normal diet over a period of weeks – during which they typically begin to see drastic weight loss.
ESG is only an option for someone battling obesity, which is defined as possessing a Body Mass Index (BMI) of 30 or above, and who has not succeeded in other weight loss attempts such as diet and exercise. That is why the staff at the Center for Weight Management, which has offices in Braselton, Gainesville and Suwanee, considers each patient's entire medical history before recommending or performing ESG.
ESG is also intended for patients aged 21 and above, as authorized by the FDA.
"Losing weight is about finding what works best for each patient. Our staff understands there are no cookie-cutter solutions or 'typical' approaches to weight loss," Eric Velazquez, M.D., MBA, FACS, FASMBS, said. "Each of our patients faces unique challenges based on his or her history, genetic make-up and current life status, and the Center for Weight Management takes all of this into account and makes recommendations based on those findings."
Longstreet Clinic Center for Weight Management is now scheduling consultations with patients interested in ESG.
"At the Center for Weight Management, we make our patients' lifelong health our priority; that's why we're here, to help people attain their health goals," Dr. Richard said. "ESG represents a wonderful opportunity for some who are battling obesity to take back control of their lives, and that's why we worked hard to be able to offer this incredible option here in north Georgia."
To schedule a consultation, or to learn more about ESG including the introductory rate being offered, visit longstreetclinic.com/esg or call 770-534-0110 or toll-free at 877-921-0110.
*Lancet study can be found here.