Weight loss surgery offers a lifeline to health for many patients who are otherwise unable to achieve significant and lasting change while battling obesity.
Also referred to as bariatric surgery, these safe and proven procedures are just one part of a lifetime commitment to improved health. Understand that they are not a cure-all but part of a comprehensive approach to weight loss.
That said, if you are considering a bariatric surgery, it is worth understanding that recovery after weight loss surgery is a relatively straightforward and simple process.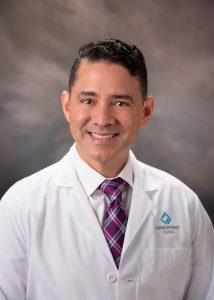 In fact, after successfully aiding numerous patients at Longstreet Clinic's Center for Weight Management, surgeon Eric J. Velazquez, M.D., M.B.A., FACS, FASMBS, encourages patients to start moving around as soon as possible after the procedure.
"After weight loss surgery, the recovery is actually very short," Dr. Velazquez said. "We actually encourage patients to walk around in the hospital and go around the nursing station within hours after the surgery." 
 Considering that patients generally stay just one night in the hospital following bariatric surgery – no matter if it is a duodenal switch, gastric bypass, or gastric sleeve – the road to recovery is one in which the patient is expected to play an active role.
"The majority of patients only stay one night in the hospital. They get discharged the day after the operation, and they can resume regular activities right away," Dr. Velazquez said. 
In fact, Longstreet Clinic Center for Weight Management providers ensure their bariatric surgery patients have a clear plan for the next steps of their weight loss journey.
"During that first week after surgery, you're going to be able to do very light exercises with your arms using dumbbells. You're going to be able to walk and go up and down a flight of steps," Dr. Velazquez said. "We usually recommend avoiding driving the first week, but you're going to start regular exercising at two weeks."
It only takes a few more days beyond that point for patients to increase their activity levels.
"Full recovery and full exercising without restrictions, we're going to do four weeks after surgery," Dr. Velazquez said.
Considering that weight loss surgery is just one part of a total approach to better health, the Center for Weight Management staff helps patients develop a comprehensive plan to make the most of their procedure and ensure long-term success. 
Patients who choose weight loss surgery suffer from obesity – which is now a recognized chronic medical condition – and occurs when your Body Mass Index (BMI) registers at 30 or above (morbid obesity carries a BMI of 40 or above). The commitment required to undergo bariatric surgery – despite its relative safety – is something that Longstreet providers take seriously. And they want to help their patients to achieve all their goals for health. 
Any bariatric procedure is just the first step in a lifelong process for reaching remission from obesity. That's why successful weight loss surgery requires pre- and post-op lifestyle changes to keep off the weight long term. Healthy living is a lifelong choice, no matter who you are. And bariatric surgery is a means to kickstart that process for people often unable to make that change on their own due to health concerns that have often spiraled out of control.
Although people worry about the risks of surgery, and they do exist, several research reports consistently show that for morbidly obese people, the overall risks of dying within five years are nearly 10 times higher for those who choose not to have weight loss surgery.
If you are morbidly obese and fighting a losing battle to regain control of your health, it is a serious question worth asking yourself, and our doctors are happy to discuss what will work best for you. Our goal is to make you healthy while making your life journey as enjoyable as possible.
Learn more today
If you would like to learn more about gastric bypass or Longstreet Clinic's Center for Weight Management, click here or call us today at: 770-534-0110 or toll free at 877-921-0110.