How many times have you logged onto your social media accounts and been besieged by posts about the latest weight loss trend or fat-burning miracle drug?
They're everywhere. And it's hard to tell what's real and helpful, from fake and potentially harmful. But while it's wise to be skeptical of most weight loss social media trends, there are times when medicine and science combine to make a big difference for those in need of serious weight loss.
Is the "skinny shot" one of those instances?
Let's start by asking experienced and qualified weight loss specialists.
At Longstreet Clinic's Center for Weight Management, our dedicated team of professionals knows what real and lasting weight loss is about. They also keep abreast of all the latest trends and make it a point to help patients sift through weight loss solutions – and separate the real, helpful tools from those that are solely social media creations.
When it comes to injectables, or "skinny shots" as some have dubbed them in popular culture, our doctors note that there is some actual substance behind this latest trend. But make no bones about it, these drugs are not intended for cosmetic weight loss.
Longstreet Clinic endocrinologist Dr. Sonali Ganguly says the injectables that have ballooned in popularity are not necessarily brand new. In fact, these types of medicines have been around long enough to have multiple types, and it's the latest developments that have it trending. Initially designed to address type 2 diabetes, these medicines have also been proven to help patients lose weight.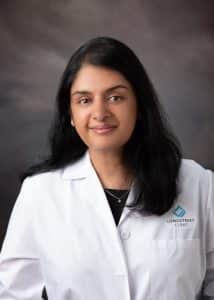 "There's Ozempic as well as Mounjaro… And there's also Saxenda. Saxenda is kind of an older version, but still just as good. And these are once a week, injectable medications…And the way in which it works is that it slows down gastric emptying so patients or people feel full for a longer time and so they have a reduced appetite," Dr. Ganguly said. "Ozempic does have a higher dose version, which is called Wegovy, and this is actually approved for treatment of obesity."
*Note: This blog was recorded and written in Summer 2023. On Nov. 9, 2023, the FDA granted approval to Eli Lilly's weight loss drug Zepbound for adults with obesity or who are overweight with at least one weight-related condition. Eli Lilly also produces Mounjouro, which is approved for the treatment of Type 2 diabetes.
Studies show that the injectables not only decrease a patient's blood sugar, but can lead to weight loss of anywhere from, "15 to 20 percent of their bodyweight," Dr. Ganguly added.
"[These shots are] really a great tool that we like to use in treatment of type 2 diabetes. So, if a patient's insurance plan covers it, which the Georgia State Health Benefit Plan does for example, we can use that as well for just weight loss," Dr. Ganguly said.
That means that the "skinny shot" is not something a patient can purchase over the counter. So beware online knock-offs that are not prescribed by your physician. Nor is it a cure-all for a patient battling weight problems – even severe obesity. However, these medicines may offer a non-surgical and realistic route to weight loss, but only under the supervision of a health care professional.
The caring team at the Center for Weight Management are always ready and happy to talk with you about your weight loss goals and needs – and that includes determining if the skinny shot is right for you.
"The first step is to come and see one of us. And then if [a patient] has type two diabetes, we'll certainly try to get these medications approved," Dr. Ganguly said.
To speak with someone about the skinny shot, please call Longstreet Clinic's Center for Weight Management today at 770-534-0110 or toll-free at 877-921-0110.
To learn more about the Center for Weight Management, visit our website or watch our online seminar then fill out our contact form and our weight loss team will reach out to you.