As part of Longstreet Clinic's robust and ongoing COVID-19 response plan following CDC recommendations, we are providing enhanced screenings and triaging at entrances to assure safety for patients and visitors, as well as to support patients with symptoms in need of assessment and treatment immediately. These are additional steps toward creating the safest environment for our patients, our staff and our providers. All of our locations across north Georgia remain open for appointments. Telehealth options also are widely available.
As we have done since March, trained staff members continue to conduct screenings including temperature checks upon arrival all of our locations. We also screen all Longstreet staff as they arrive for work. Longstreet Clinic employees, clinical and nonclinical, are required to wear masks unless working inside a personal office. Visitors will now be required to wear masks/face coverings as well (more information below).
Longstreet Clinic has played a key role in the healthcare community's response to COVID-19 by continuing to treat and manage patients in the outpatient setting, as well as caring for patients within the hospital. This includes maintaining access to medical care for patients in need of acute, obstetrical, pediatric and oncology care, as well as COVID-positive patients who can be managed at their homes through telehealth. This service helps patients in an outpatient setting, avoiding higher intensity sites of care that should be preserved for the more critically ill.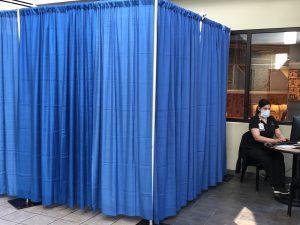 New procedures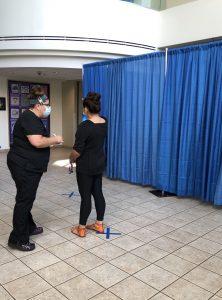 In alignment with CDC recommendations, we will now require everyone visiting our offices to wear a mask or cloth face covering except children younger than 2 and anyone who has trouble breathing or cannot remove their mask without assistance. (We currently have a limited visitation policy, so please review it here before arrival.)
In late April, Longstreet Clinic's coronavirus task force took additional steps to enhance screening procedures at our largest campus in Gainesville. When you enter at 725 Jesse Jewell Parkway Southeast, you will see a series of blue Xs on the floor, six feet apart. Screeners will greet you and ask a series of questions about your symptoms and whether or not you've been around anyone diagnosed or tested for COVID-19. They also will take your temperature. Most patients will then be able to proceed to their appointments.
For those who may arrive without an appointment or those who report symptoms of or exposure to COVID-19, you will be immediately screened in a new triage area located in our atrium. At the conclusion of the private screening, if COVID is suspected, a Longstreet Clinic associate will escort the patient via private elevator to our Urgent Care department where they will be placed into a room immediately. Our main bank of elevators in the 725 atrium are still open but limited to 3 passengers at once (a nearby stairwell also is accessible). These precautions are intended to limit exposure and treat sick individuals as quickly as possible.
COVID-19 testing
If you are feeling unwell, we continue to encourage you to call our office or complete a MyChart E-visit so a provider can evaluate your symptoms. If you meet the CDC-recommended criteria for COVID-19 testing, a provider will order a test. Instead of coming into the office, you will be given instructions about our drive-thru testing location. This process enables us to protect our staff and other patients by centralizing specimen collection and to helps conserve limited personal protective equipment (PPE).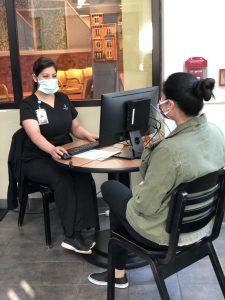 Our team is ready to assist you and answer any questions you may have. Thank you for your patience as we all work together to navigate the current public health emergency surrounding COVID-19.
*Please remember: You must have an order from your provider in order to receive a COVID-19 test at Longstreet Clinic.