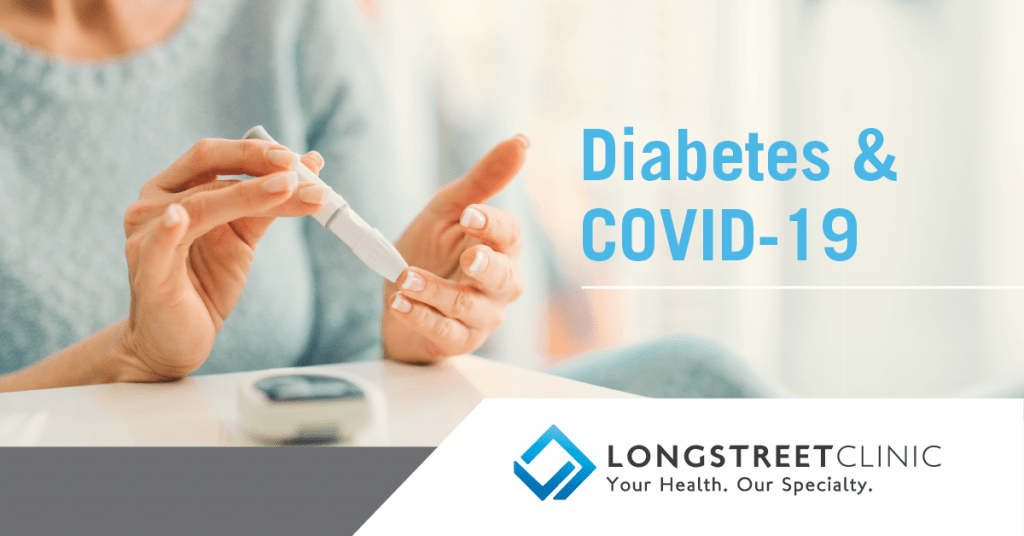 The novel coronavirus pandemic presents unique challenges to all of us, but certain segments of the population must be much more considerate and careful when it comes to both avoiding the virus and dealing with the symptoms that its infection – known as COVID-19 – produces.
That most certainly includes diabetics, who account for 34.2 million Americans – 10.5 percent of the population, according to the CDC's National Diabetes Statistics Report for 2020.
Longstreet Clinic endocrinologist Evgenia "Jenya" Korytnaya, M.D., and longtime clinic program director and Diabetes Education Coordinator Cheryl Williams, RN, CDE, want all diabetics to be aware of the risks posed by the novel coronavirus and COVID-19 and – just as critical – the importance of monitoring their blood sugar during a time when access to typical healthcare has been altered.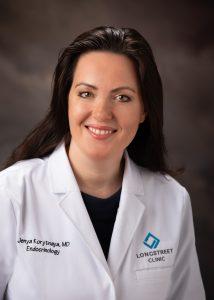 "People with diabetes, both type 1 and 2, have a higher risk of becoming very sick and experiencing serious COVID-19 complications, and this risk is highest for people who do not manage their diabetes well, those whose blood sugars are high," Dr. Korytnaya said. "That is why it is important to stay on top of your numbers. High blood sugar suppresses immune system function and decreases defense against infection."
Williams understands this risk well, not just as an educator with Longstreet – where she has worked for 22 years – but as a fellow diabetic. Which is why she is adamant that her patients should stay on top of their blood sugar levels, maintaining the lifestyle routines designed to improve their health, while also practicing responsible social distancing in order to decrease the odds of contracting COVID-19.
"All diabetics need to be on top of their routine right now and make sure they have a full supply of their medications in order to stay healthy and keep their blood sugar down," Williams said. "If your blood sugar is consistently high or out of control, then you also increase your risk for stroke and heart attack – and keeping patients out of the emergency room is a high priority during the time of pandemic."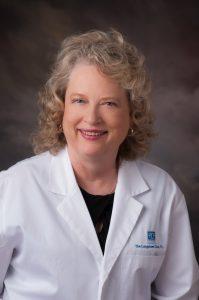 Those patients diagnosed with type 2 diabetes mellitus, should also be aware of additional comorbidities, such as obesity, heart disease, high blood pressure and fatty liver, referred to as "cardiometabolic diseases." Patients with these diseases also have increased risk of severe complications from COVID-19.
"When people become very sick and weak it becomes hard for them to manage their pre-existing conditions at home and this could result in hospitalization," Dr. Korytnaya said.
How diabetics can avoid COVID-19
First things first, Dr. Korytnaya and Williams stress that both diabetics and family members/anyone in contact with diabetics need to practice and understand the responsibility of social distancing. Even in the face of loosening restrictions in the state of Georgia, those who are "medically fragile" – which includes many diabetics – are still encouraged to shelter in place and maintain a healthy home environment.

"The bottom line is people with diabetes need to be very careful to not get exposed to someone with the virus by practicing strict social distancing and washing their hands," Williams said.
Social distancing includes:
Staying at least 6 feet (about 2 arms' length) from other people
Not gathering in groups
Staying out of crowded places and avoiding mass gatherings
You may also substantially decrease your chances of contracting COVID-19 by:
Washing your hands with soap and warm water for at least 20 seconds at intervals throughout the day.
Avoiding touching your face as much as possible.
Wearing disposable gloves to clean and disinfect.
Cleaning surfaces with soap and water.
Practice routine cleaning of frequently touched surfaces. (High touch surfaces include: tables, doorknobs, light switches, countertops, handles, desks, phones, keyboards, toilets, faucets, sinks, etc.)
Of course, if you experience any flu-like symptoms such as fever, cough, shortness of breath or wheezing, call your primary care provider immediately. Your healthcare provider will determine if you need to be tested for COVID-19, if you need to be hospitalized or if you can be seen through a telehealth visit.
Keeping your blood sugar in check
For diabetics, staying healthy during this time is about more than just avoiding COVID-19. In fact, successfully coping with diabetes is a lifelong commitment to maintaining safe blood sugar levels – no matter the situation. However, as normal healthcare options have been disrupted by the pandemic, it is now more important that diabetics control their blood sugar levels.
"I would like to emphasize that not everyone's diabetes is the same and the risk could be higher for people whose diabetes is poorly controlled," Dr. Korytnaya said.
That control starts by adhering to a strict schedule – and by not allowing shelter in place directives to deter you.
"A lot of people are not going to work; they're sleeping later and not eating on their usual schedules," Williams said. "Therefore, it is very important not to get out of your routine, which can negatively impact your glucose control."
Williams and Dr. Korytnaya both recommend that diabetics:
Check blood sugar regularly and at established intervals.
Follow an established, balanced diet – avoid eating excess carbohydrates, and, if limited in food choices be smart. For instance, if you are restricted to canned vegetables, wash them before you eat them.
Do not stress eat – it's hard to avoid, but, remember the consequences.
Get exercise – 30 minutes a day if you can; there are plenty of workouts available for free online, in places like YouTube, that do not require weights or special machines.
Be aware of any wounds – if you have any complications, call your doctor right away.
Stay hydrated – Drink plenty of water and avoid alcohol.
Quit or cut down on tobacco use.
Get at least 7-9 hours of restful sleep every night.
Ensure you have a full supply of your medications – if possible, use a mail-in pharmacy instead of going to the pharmacy or utilize a delivery service.
Ensure you have plenty of testing supplies – double check expiration dates on your insulin supply and other diabetic medications and request refills from your provider.
Ensure you have glucose tablets/fruit juice (or other source of simple sugars) to treat low blood sugar appropriately.
View a more detailed emergency plan for diabetics here.
"A lot of prescription companies are currently offering special pricing plans right now and cheaper co-pays because of the economy and jobs situation due to the pandemic," said Williams, who encouraged patients to talk to their pharmacy about any available options.
Williams and Dr. Korytnaya also add that every diabetes patient should stay in touch with their healthcare providers. And to ensure easy access, Longstreet Clinic offers a number of methods of contact – these include telehealth appointments for patients, as well as the MyChart patient portal.
A "well patient" blood lab is also open and available by appointment for anyone who may speak with a provider and subsequently need bloodwork.
"Of course, some people are afraid to talk to us because it's a case of, 'do I want to let the doctors and nurses know how bad I've been doing at maintaining the right blood sugar levels?' If you feel like that, I promise you, it's better to talk with a provider, no matter your situation," Williams said.
Getting the most out of your health
Dr. Korytnaya and Williams say that there are other things every diabetic can do to get the most out of their situation:
When monitoring your blood sugar levels at home, maintain a sugar log/diary in which you track each and every number. That way, if you end up with a telehealth visit, you can send those numbers to your provider prior to the appointment. This helps the provider to make recommendations and adjust your diabetes regimen if necessary.
Check your blood pressure at home and share blood pressure and heart rate readings with your provider during the telehealth visit.
If you are short of breath, have chronic lung disease and own a pulse oximeter, measure your oxygen levels at home and provide that information to your primary care provider.
Write down all the topics you want to discuss with your doctor prior to your telehealth visit.
Don't forget to ask your provider for refills of your medications and testing supplies.
Go over your medication list and discuss if any of your medications need to be changed.
If you are visiting our clinic in person, don't forget to discuss vaccinations, as you need to stay current on pneumonia and influenza vaccines.
In this together
Longstreet Clinic understands how stressful and difficult life during the pandemic can be – even more so for patients with diabetes, who must be extra cautious.
"We are doing everything we can to provide our patients with the same top-level care we have always provided," Dr. Korytnaya said. "We are here for you whenever you need us."
"When in doubt, reach out," Williams added. "That's what Longstreet Clinic is here for. We want patients to know we have been here for 25 years, and we are here for you now."
For more about Diabetes Education, click here. Or call us at 770-533-6551. You may also reach Dr. Korytnaya's endocrinology office at 770-297-2238.