Understandably, parents throughout the nation and here in Georgia are concerned about exposing their children to the novel coronavirus that has impacted our daily lives in unprecedented fashion.
However, Longstreet Clinic pediatricians want every parent to know two things:
Avoiding well-care check-ups (especially for children age 2 and younger) and immunization appointments could lead to potential long-term health concerns.
Longstreet pediatricians are doing everything imaginable to provide a worry-free and secure healthcare environment for their patients – whether that means conducting telehealth appointments or ensuring a clean and safe office space for both well and sick patients.
"Our patients' health and safety is our utmost concern," Longstreet Clinic pediatrician Dr. Eugene Cindea said. "We understand people are concerned about coming in, and, as a result, we have taken every precaution we can for our patients, care providers and staff, following all CDC guidelines related to COVID-19 and pediatric care."
Those precautions include:
All staff are wearing masks and practicing infection prevention measures.
Every individual who enters one of our offices is being screened for illnesses, including fever, and being separated if they are sick.
Any patient with any respiratory symptoms is given a mask and isolated in order to help protect everyone else.
Every effort is made to schedule well visits and check-ups during the morning hours and sick visits in the afternoon.
Patients are being sent to examination rooms as quickly as possible in order to avoid being in the waiting area with each other for more than a few minutes.
Parents with children aged 12 months and younger in need of routine care are currently being seen our WeeCare office in Gainesville, which sees ONLY well children.
Only one parent or guardian is permitted to enter along with each pediatric patient in order to minimize potential exposures.
No matter how advanced telehealth options have become – there are times when doctors and children need to be in the same room together. And Longstreet Clinic care providers want to make sure that parents are not afraid to bring their children in for important appointments in the life of a healthy child.
"The American Academy of Pediatrics and CDC still recommend that children maintain their routine checkups, especially for children under the age of 2. This is for a number of reasons, including immunizations against diseases and in order to keep an eye on developmental growth and ensure there are no interruptions," Dr. Cindea said. "In terms of immunizations, if we have a dip in the number of children who receive immunizations – in other words a large group of children that are not immunized – it will put all children who are immunized, and even adults, at risk when social distancing restrictions are relaxed."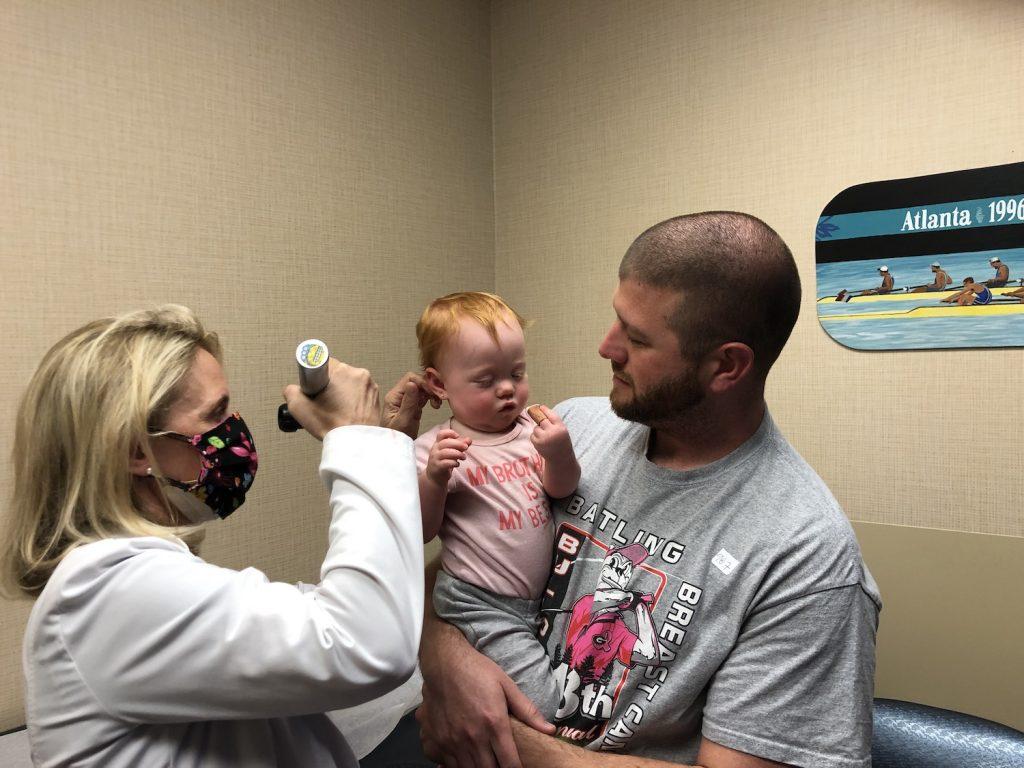 All children under the age of 2 and children preparing to enter elementary school in 2020-2021 (typically aged 4 and 5), need to be seen in order to receive both first-round immunizations and booster shots. Even older children and their parents need to be aware of the meningococcal conjugate vaccine (for bacterial meningitis), which comes in two rounds, starting with seventh graders and completed by the 11th grade. It is now Georgia law that school children must receive this round of immunizations, and many colleges and universities require its completion before allowing full enrollment.
Maintaining a close eye on children also allows pediatricians to spot any potential problems and address them quickly, often before they can become serious.
"Some of those issues can be addressed fairly easily in the visit and with information we give to parents to help them at home. Or, if it's something more significant, we can refer to a specialist to make sure that it gets attended to as quickly as possible," Dr. Cindea said. "Earlier intervention means a better response."
"We're more than happy to answer as many questions as we can and do whatever we can for our patients including same-day appointments, rather than have them go to an emergency room or even an urgent care. It's all about protecting our patients."
Longstreet Clinic recommends you call their offices or send a message via MyChart, so that providers may help you decide what level of care you require. And that could include a telehealth phone or video conference appointment.
What to do if your child needs to see a doctor
If your child is sick or has suffered an injury that you know is not life-threatening, the best way to ensure you get the best medical care is by calling your pediatrician's office.
"We still have our triage staff on hand because some issues you just need to be seen for. And young children sometimes cannot tell you what's wrong, and pediatricians just have to lay hands on them to determine the problem," Dr. Cindea said.
All of our pediatric offices are open and able to provide both sick and well care visits.
Our offices numbers by location:
As always, if your child is experiencing a medical emergency you should contact 9-1-1 or visit your closest emergency room.